Lockdown violators to be fined Rs1 million in Sindh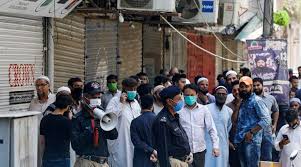 Under the COVID-19 Emergency Relief Ordinance 2020, Sindh government will slap a fine of Rs1 million on those found in violation of standard operating procedures (SOPs) of lockdown restrictions.
This came into effect after Governor Sindh Imran Ismail — who earlier rejected the proposal —gave it a go ahead.
According to the ordinance, which was approved on April 27, violation of any act mentioned in the ordinance will result in a fine.
Prior to this, the fine for violating the Infectious Diseases Act was Rs 3,000.
The ordinance also states that the officer concerned will be required to state the reasons for imposing the fine, while there will be a separate fine for repeated violations.