'A wonderful experience': PM Imran on his Samarkand visit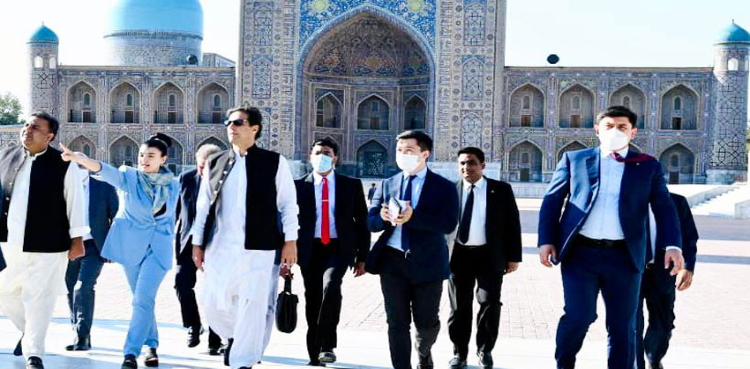 PM Imran Khan visited historic Uzbek city of Samarkand on Saturday (today) terming it as a 'wonderful experience'.
PM Imran Khan took to social media to apprise about his visit to 'the greatest city at the beginning of 15th century' and the tombs of Amir Taimur and Imam Bokhari in Samarkand, Uzbekistan.
Talking to Uzbek media in historic city of Bukhara, he said this is an exciting beginning and will lead people-to-people and trade and political relationship growing stronger.
The Prime Minister said the upcoming rail project among Pakistan, Uzbekistan and Afghanistan would connect the people of the areas and boost development.
Imran Khan and his delegation also visited the mausoleum of Hazrat Bahauddin Naqshband and offered fateha.
It is pertinent to mention that PM Imran Khan is on a two-day visit to Uzbekistan. The premier is accompanied by is accompanied by Information Minister Chaudhry Fawad Hussain, Interior Minister Sheikh Rashid Ahmed, Minister for Maritime Affairs Ali Haider Zaidi, National Security Adviser Dr Moeed Yusuf and Khyber Pukhtunkhwa Minister for Information Technology Atif Khan. Meanwhile, Foreign Minister Shah Mahmood Qureshi also joined the Pakistani delegation after concluding his Tajikistan visit.
The premier's visit included wide-ranging talks between the two leaders covering the entire gamut of bilateral relations, with a particular focus on trade, economic cooperation, connectivity; signing of number of agreements/MoUs aimed at deepening bilateral cooperation in diverse areas; 6th session of the Joint Inter-Governmental Commission (JIGC) and inaugural session of Joint Business Council (JBC).