After CAA, NRC Modi resorts to notorious 'love jihad' laws targeting Indian Muslims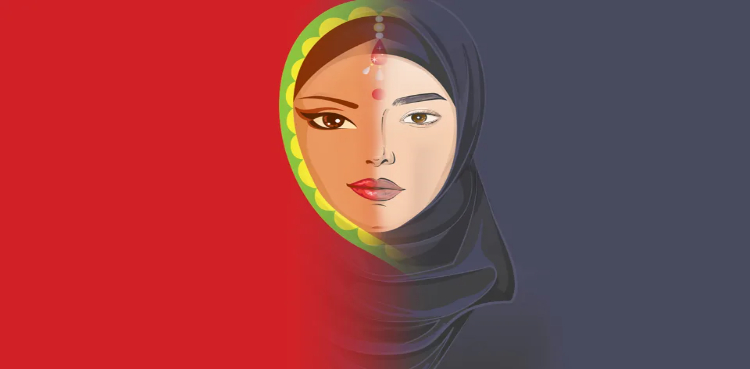 Indian government, after its much controversial CAA and NRC initiatives has now resorted to notorious 'love jihad' laws targeting interfaith marriages, especially concerning Muslims.
Indian police is said to have arrested at least 10 men under its new 'love jihad' laws, officially labelled as 'anti-conversion' laws. The men have been apprehended over accusations of forcing women to convert and change their religion after getting married to them.
The parents had filed police complaints contending that their daughters were 'abducted' by Muslim men.
The development comes as India's Uttar Pradesh (UP) – ruled by right-wing Bharatiya Janata Party (BJP) in November last month, became the first Indian state to pass a law against religious conversions.
The Islamophobic Love Jihad Laws
The Islamophobic love jihad laws are being drafted in another four Indian states of Madhya Pradesh, Haryana, Karnataka and Assam – all ruled by Narendra Modi's right-wing Hindu nationalist BJP.
Although these marriage laws do not name any religion specifically, the 'love jihad' terminology clearly indicates Muslim centric intentions and Islamophobic nature of BJP governments both in center and provinces.
Love jihad laws are the in-fact the brain child of right-wing Hindu extremists who have actively used the term 'love jihad' describing interfaith marriages between a Muslim man and a Hindu girl.
This far-right Hindu nationalist approach, ideology is actively practiced and propagated by groups such as Rashtriya Swayamsevak Sangh (RSS), who accuse Muslim men of 'coercing' Hindu women into marriage for the sole purpose of changing their religion and converting them to Islam.
This is not the first time love jihad has been used against interfaith marriages involving Muslims, however the fact that BJP is in power has given a significant boost to this narrative as depicted by these so called anti-conversion marriage laws.
Hindu extremists have blatantly beat the love jihad drum for political agendas that have often if not always resulted in significant rise in anti-Muslim hate crimes and violence.
Uttar Pradesh Chief Minister Yogi Adityanath – a senior BJP member and close aide of PM Narendra Modi, is on record saying that the government will pursue its work against love jihad.
Rising opposition
India's new anti-conversion marriage laws aka love jihad laws have faced overwhelming opposition from Public who have termed them as anti-human and unconstitutional.
Supreme Court of India, in its April 2018 decision had overturned the decision of Kerala High Court which had annulled he marriage of Kerala Muslim convert girl Hadiya and Shefin Jahan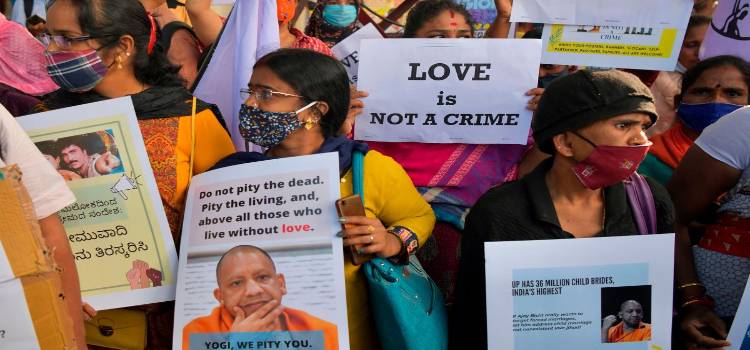 The Supreme Court stressed upon the fact that 'the right to marry a person of one's choice is integral to Article 21 (right to life and liberty) of the Constitution'.
The choice of a partner whether within or outside marriage lies within the exclusive domain of each individual. Intimacies of marriage lie within a core zone of privacy, which is inviolable. The absolute right of an individual to choose a life partner is not in the least affected by matters of faith. The Constitution guarantees to each individual the right freely to practice, profess and propagate religion, said the court verdict.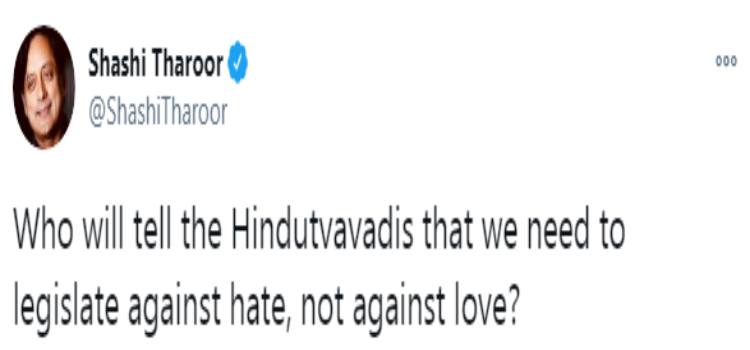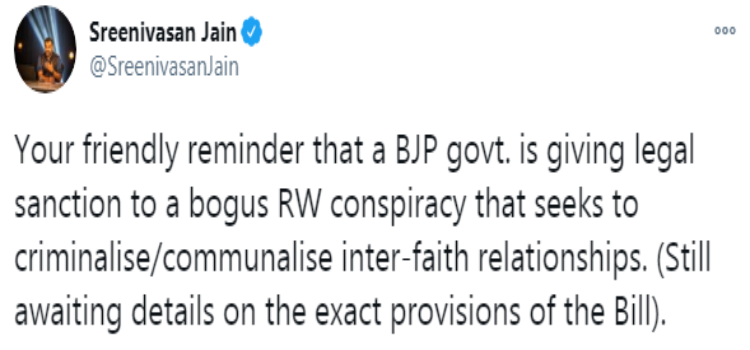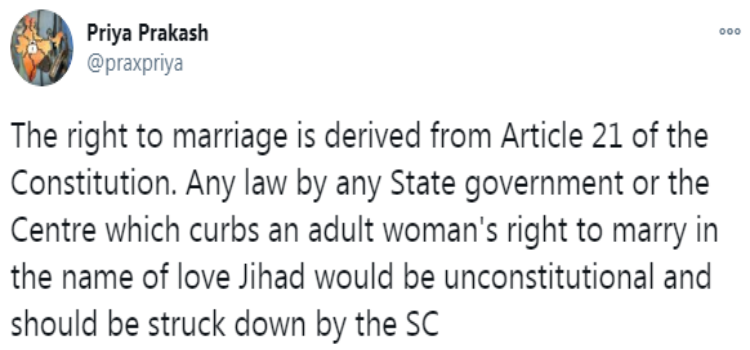 "Love Jihad is also cruel double speak. The campaign by many saffron parties and the UP ordinance is selectively aimed at Muslim boys marrying Hindu girls and not targeted at Hindu boys marrying Muslim girls," wrote former Indian Army Captain GR Gopinath.
A look at Interfaith marriages in India
In India, more than 90 per cent of all marriages are arranged as the country idealizes Monogamous, arranged, heterosexual and same-community marriages, and anything other than this is interpreted as unnatural and perceived as an abomination.
According to Dhanak – a Delhi based not-for-profit organization mostly comprising interfaith and inter-caste couples, has said that its approached by around 1,000 interfaith couples each year, of which 52 per cent are Hindu women who want to marry Muslim men; and 42 per cent are Muslim women intending to marry Hindu men.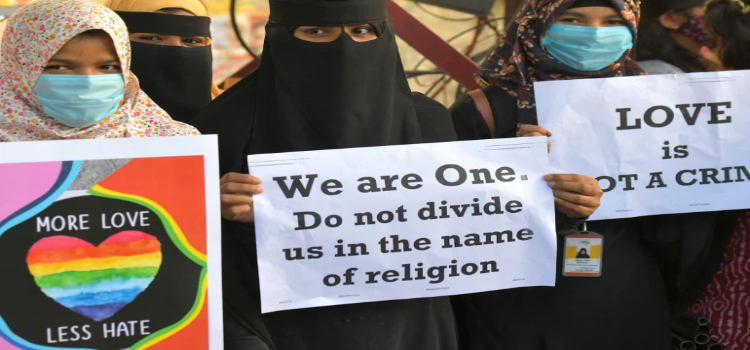 According to the support group, families fiercely oppose interfaith marriages and often lodge false legal complaints when their daughters marry someone from a different faith, especially if it's a Muslim man.
When a Hindu Man marries a Muslim woman it is portrayed as 'romance, whereas if a Muslim man marries a Hindu woman it is labelled as 'love jihad' by Hindu organizations, said Charu Gupta – a historian at University of Delhi.
'Love', the deepest and most valuable of human emotions is still a taboo in 'world's largest democracy' as interfaith marriages, especially involving a Muslim man face severe opposition from society.
Currently, India's Special Marriage Act provisions interfaith marriages required interfaith couples to notify authorities a month in advance.