Pakistan Army troops carry out relief operations in Karachi as the metropolis witnesses its fourth rain spell.
According to Inter Services Public Relations (ISPR), Pakistan Army has initiated its relief operations in the rain-hit metropolitan city of Karachi which is experiencing its fourth rain spell with heavy downpour across the city.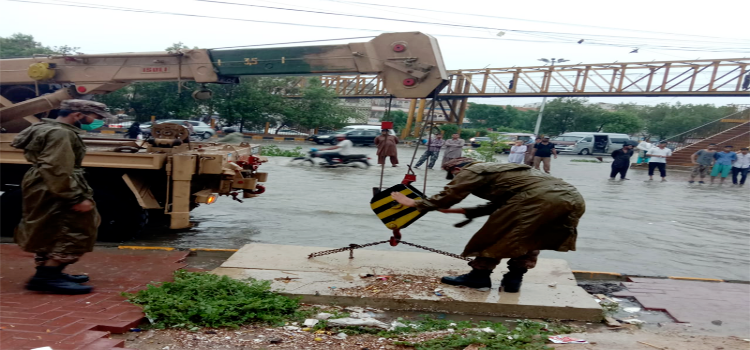 Pakistan Army teams equipped with water pumping machinery carried out relief operations to ensure the speedy drainage of rain water accumulated on various roads and localities throughout the city.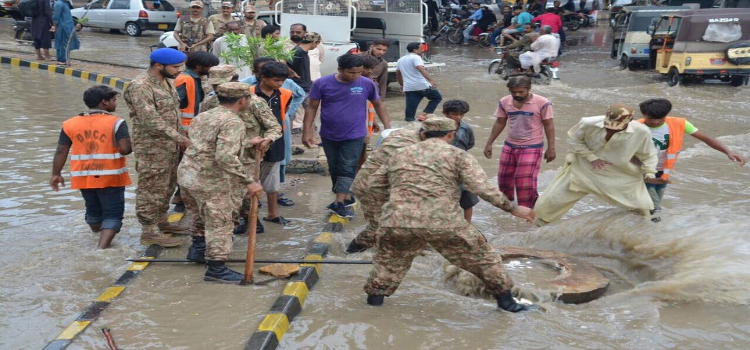 Meanwhile, army teams are on standby to deal with any possible scenario in accordance with the urban blood warning issued by Pakistan Meteorological Department (PMD) for Karachi in wake of torrential rains.
The development comes as earlier Prime Minister Imran Khan had directed National Disaster Management Authority (NDMA), Pakistan Army and Frontier Works Organization (FWO) to assist civilian administration in Karachi in wake of heavy rains and urban flooding.
NDMA and FWO teams have been carrying out extensive cleaning operations of major drainage and sewage systems of the metropolis.