First shipment of Chinese COVID-19 vaccine reaches Pakistan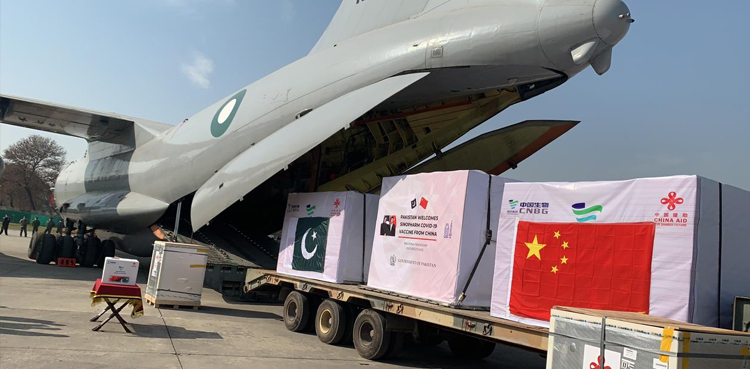 Pakistan on Monday (today), received its first shipment of Chinese COVID-19 vaccine.
A Pakistan Air Force (PAF) plane landed in Pakistan on Monday (today) bringing country's first batch of COVID-19 vaccine from China.
Special Assistant to Prime Minister (SAPM) – Dr Faisal Sultan, took to social media to announce the development.
"Alhamdulilah the first batch of Sinopharm vaccine has arrived! Grateful to China and everyone who made this happen. NCOC & provinces played an instrumental role in tackling COVID. I salute our frontline healthcare workers for their efforts & they'll be first to get vaccinated," he tweeted.
The development comes as earlier, China's State Councilor and Foreign Minister – Wang Yi reassured Pakistan of the provision, supply of 500,000 COVID-19 vaccine doses.
Chinese official's reassurance was soon followed by Chinese government's request to pharmaceutical companies As per details, Chinese government has urged its pharmaceutical companies to expedite the process of delivery of COVID-19 vaccines to Pakistan.
In a statement, Hua Chunying – Chinese Foreign Ministry spokesperson, reiterated China's commitment towards delivering COVID-19 vaccines to Pakistan in least possible time.