Coronavirus hotspots in Karachi to be sealed from 7 pm today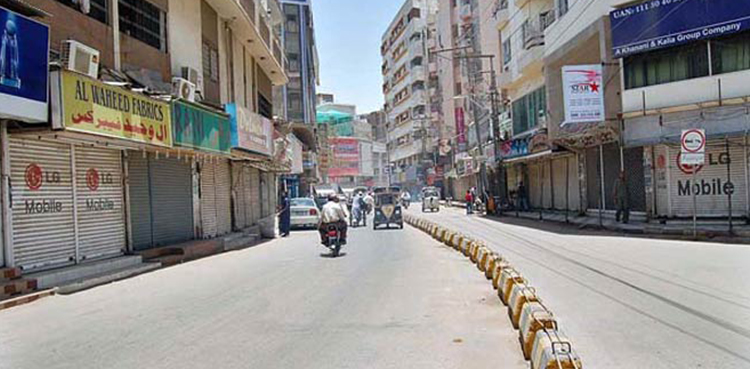 Several coronavirus 'hotspots' in Karachi will be sealed off from 7 pm today for a period of two weeks.
According to the notification issued by Commissioner Karachi Iftikhar Ali Shallwani a total of 43 Union Councils (UCs) in various districts of the metropolitan city which have been identified as coronavirus hotspots, will be sealed off from today for a duration of two weeks.
"It is hereby ordered that a complete lockdown is to be enforced in the streets/localities of specified areas in these Union Councils for a period of two weeks," read the notification issued by Commissioner Office Karachi.
District South:
UC Karachi cantonment's Bizerta Line and Doli Khata, UC Kharadar-3's Lea Market, UC Saddar-8: Burnes Road, MA Jinnah Road, main Saddar, Urdu Bazaar, UC Phase VI: Khayaban-e-Badar and Muhafiz, UC Lyari Agra Taj 2 and Bihar Colony.
District Central
Gulberg, selected streets of JoharabadNorth Karachi Sector 11-E, select streets of Anarkali market.
District Malir
UC-1 Muzzafarabad's D-Area main commercial market road from 50-bed hospital to 52 Wing Pakistan Rangers, Old Area, Jacob Line, Majeed Colony sectors I and II, Muzzafarabad Rehri Road main markets from Hospital Chowrangi to Hussain Chowrangi, UC-3 (Cattle Colony) Road No 9, complete Commercial market area Gulshan-e-Hadeed commercial markets of Phase I and II, UC-3 Dawood Chowrangi to 89 Petrol pump, UC-4 Quaidabad, Gosht gali, Murghi Khana, Majeed Panwala area near mobile market, UC-5 Jaffer-e-Tayyar's Jinnah square commercial market.
District West
UC-3 (Isman Nagar) Naval Colony, Sector 4, UC-4 (Metroville) Block 3, UC-5 (Saeedabad) Area 5G, 5J, A3, UC-5 (Songal) Gulshan-e-Maymar and Khuda ki Basti Phase 2, UC-6 (Frontier Colony) Sector 4 & 5 Malakand Hospital, Ismaili quarters, UC-6 (Ghaziabad) Christian Colony.
District East:
Gulshan Town:
UC-1 Muhammad Ali Society, UC-2 Bahadaruabad and Block 14, UC-4 Essa Nagri, UC-6 Block 13 (A&C), UC-7 Gulshan-e-Jamal, UC-8 13-D/II, UC-9 Block 7, UC-10 Blocks 14, 15, 11, Gulistan-e-Jauhar Block 2, UC-12 Sachal Goth and Rabia Petal, UC-13 Safoora, UC-14 Rufi Lake Drive Inn and Gulistan-e-Jauhar Block 13