Plasma therapy has been one of the huge successes in Pakistan in helping the coronavirus patients recover after its clinical trials were approved by the government.
Plasma immunisation therapy was used to cure patients of diseases like SARS, Ebola and influenza in the recent past.
In Pakistan, Sindh government was the first to allow clinical trials of plasma therapy, followed by rest of the provinces.
At present, the method was being used at 1,500 hospitals in some 80 countries to cure the coronavirus patients.
The federal government on Tuesday decided to extend the scope of passive immunisation plasma therapy to treat the Covid-19 patients in the country.
Chairman of the National Disaster Mana Authority (NDMA) has also urged the recovered patients to come forward and donate plasma to save fellow countrymen.
Meanwhile, the Twitterati start a social media campaign to urge the people to join nation-wide efforts in combating the novel coronavirus.
Under hashtag #DonatePlasmaSaveALife, requests are being made to the coronavirus affectees who have recovered to donate plasma for the immunisation therapy of those struggling for life at hospitals.
Journalist Arshad Waheed Chaudhry joined the campaign to urge people: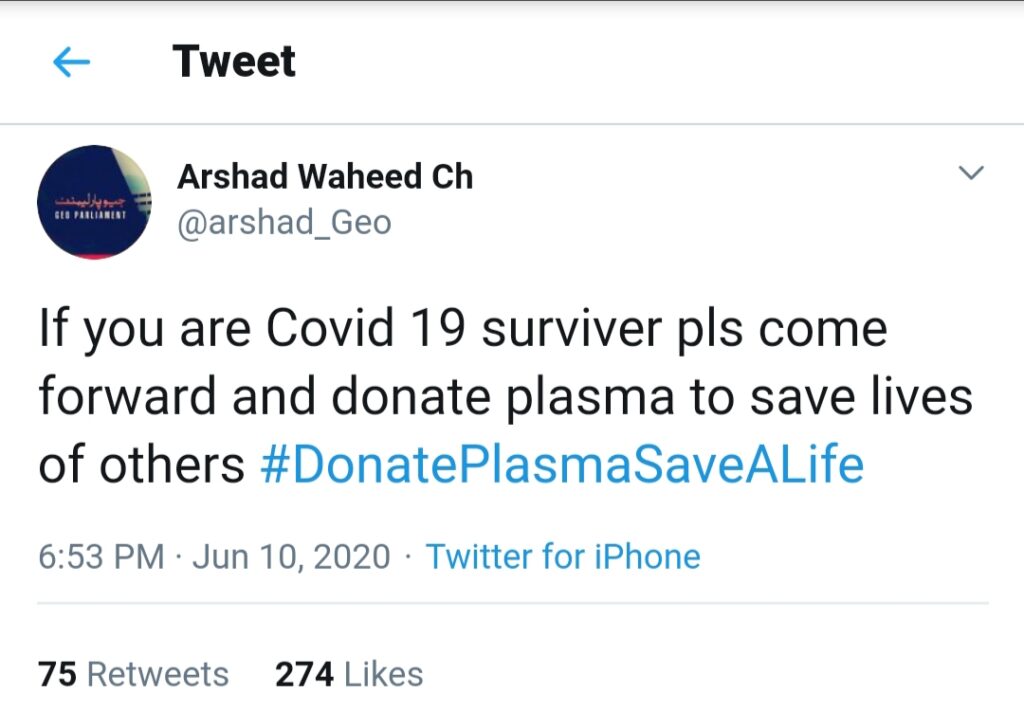 Son of the former Prime Minister of Pakistan, Ali Kasim Gilani also urged the coronavirus survivors to help the affectees: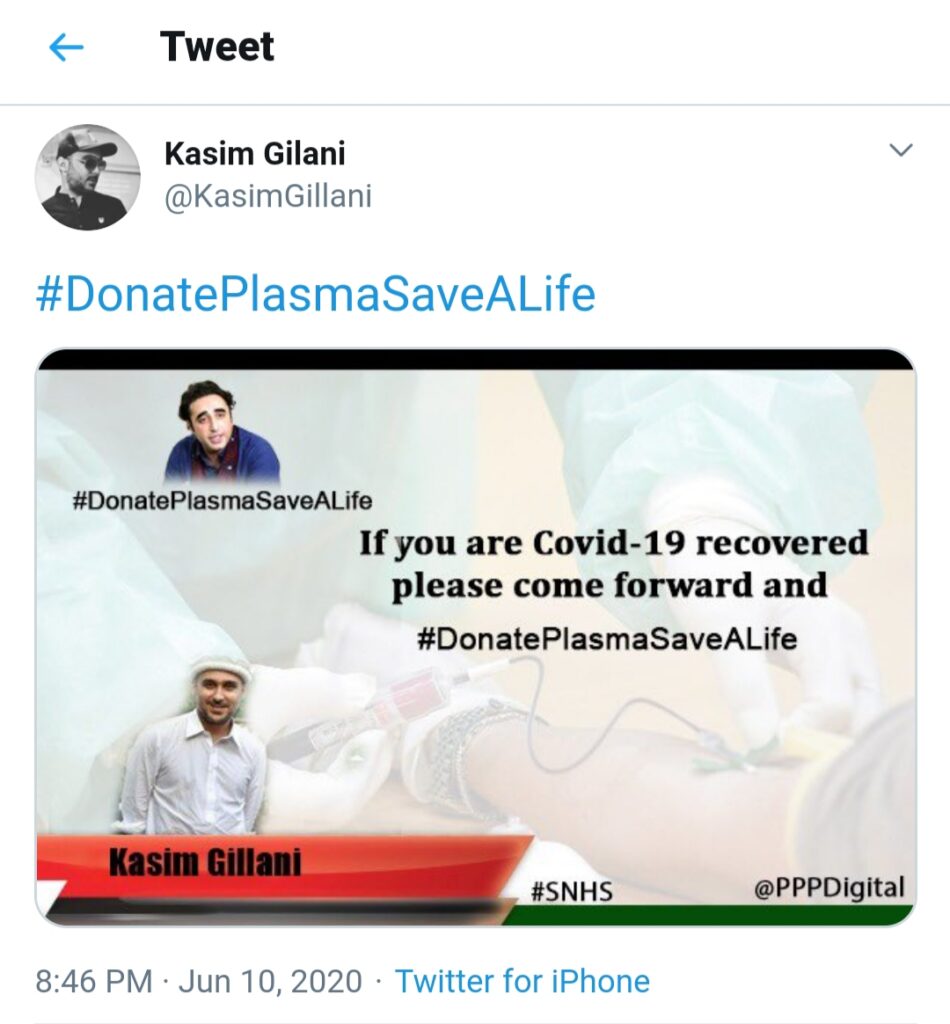 Political activist Sukhdev Hemnani expressed the need to come forward to help the fellow brethren in times of the country's biggest healthcare crisis: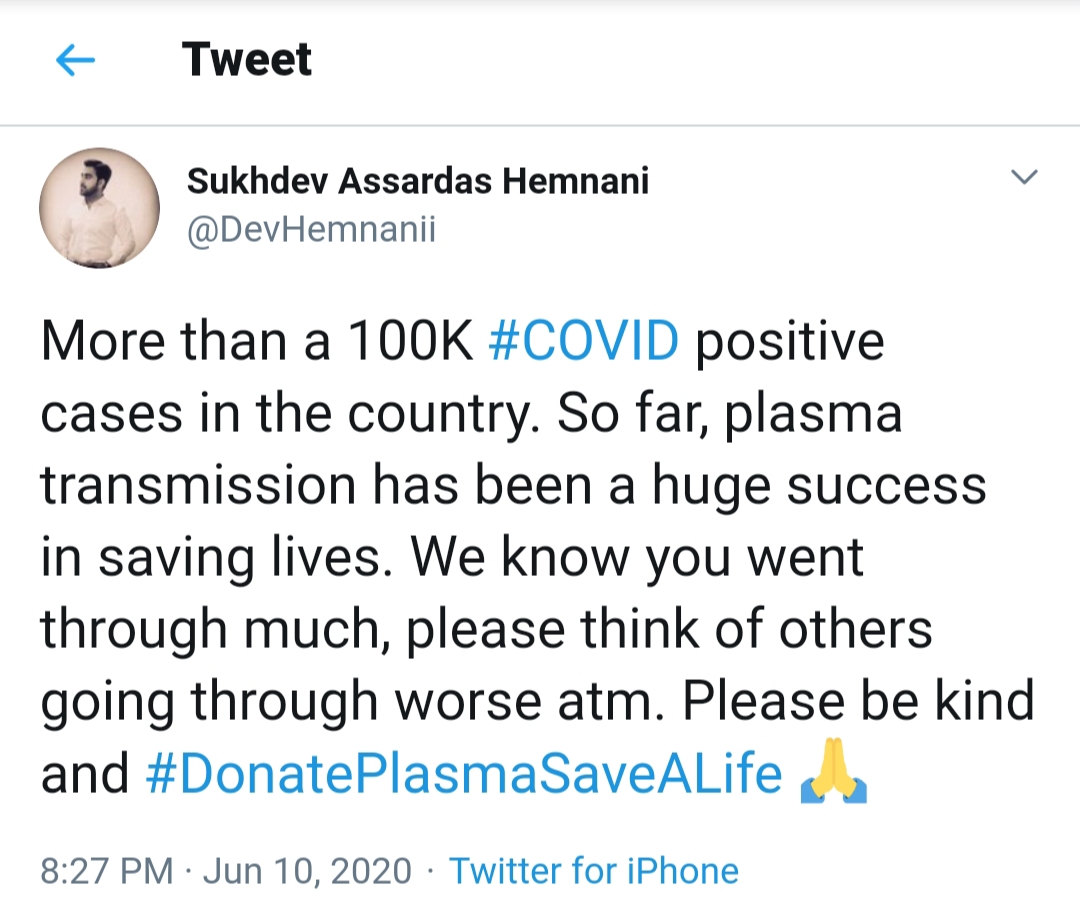 Politician Jan Mohammad Achakzai also took to Twitter and appreciated the non-political effort of the social media users:
Blogger Umair Solangi urged for arranging plasma for a patient at Rawalpindi's Shaheed Benazir Bhutto Hospital:
The hashtag is currently trending on Twitter, as the Twitterati generate momentum to collectively request the COVID survivors to extend life-saving assistance to fellow Pakistanis.