FM Qureshi, PPP Chairman Bilawal Bhutto trade barbs in NA session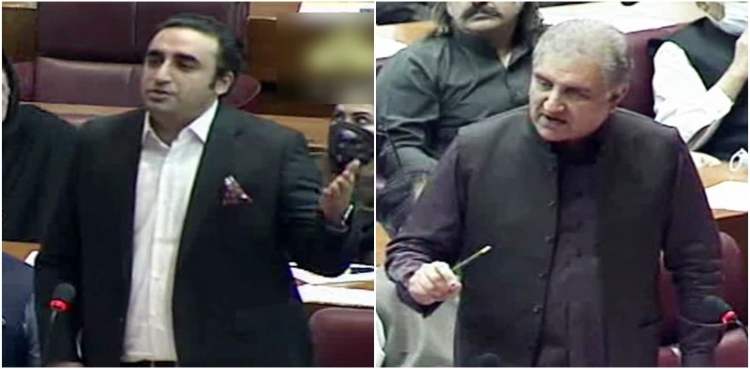 Foreign Minister Shah Mahmood Qureshi and Pakistan Peoples Party (PPP) Bilawal Bhutto traded barbs with heated exchange of words during the National Assembly (NA) session on Wednesday (today).
During the NA session, PPP Chairman Bilawal Bhutto reprimanded government and termed the yesterday's budget approval as 'rigged' contending that the opposition's challenge against the voice vote.
In response, Foreign Minister Shah Mahmood Qureshi reprimanded the opposition parties including PPP. He also criticized and Sindh government for not allowing Sindh Assembly opposition leader to express his views.
How can you talk about parliamentary traditions when you fail to follow these very traditions in your own provincial government and provincial assembly, said Qureshi.
Charter of Democracy clearly states that opposition leader should head the Public Accounts Committee but PPP government in Sindh violated the same principle, he added.
The foreign minister said that he knew Bilwal Bhutto from his childhood.
Following FM Qureshi's remarks, PPP Chairman Bilawal Bhutto said that 'we know the MNA from Multan quite well than PM Imran Khan'.
'Khan Sahab will now know who he actually is', said Bilawal Bhutto.
I would like to request the prime minister to order the ISI to tape Shah Mahmood Qureshi's phone. When he used to be our foreign minister, he ran a campaign around the world to make him the prime minister, instead of Yousaf Raza Gillani…that is why we sacked him, said PPP Chairman Bilawal Bhutto.
Taunting FM Qureshi, Bilawal Bhutto said that he has seen the prior chanting 'Jeeay Bhutto' ever since he was a child and has even witnessed the foreign minister raising the slogan 'agli baari phir Zardari' (next time Zardari) in order to save his ministership during PPP tenure.
Taking the floor once again, FM Qureshi responded to Bilawal's remarks and said that he has known the PPP chairman ever since he used to stand in the corner and get scoldings.
I know him as well as his baba, said Shah Mahmood Qureshi.
Separately, during today's NA session, the lower house approved a supplementary budget of Rs1.246 trillion for the expenditure incurred during the fiscal year 2020-21 which was tabled by Federal Minister for Finance Shaukat Tarin.
The development comes as NA passed the FY2021-22 federal budget by 172 votes on Tuesday a day earlier.