Foreign Office, government officials turn down, reject Israel visit rumors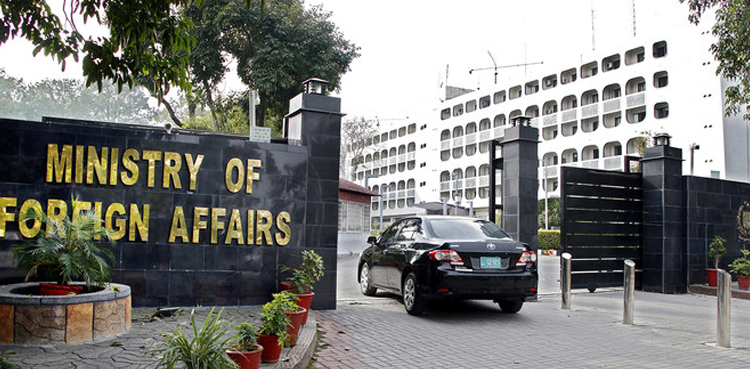 Foreign Office (FO) and senior government officials including former SAPM Zulfi Bukhari and current NSA Moeed Yusuf have categorically denied visiting Israel and meeting Israeli officials.
In a statement, Ministry of Foreign Affairs (MoFA) has categorically rebuked rumors circulating contending that Pakistani officials had secretly visited Israel and met senior Israeli officials.
These reports are baseless and misleading. No such visit to Israel has been undertaken. In this regard, categorical rejection was also issued today by the former SAPM himself, said MoFA.
The MoFA press-release also highlighted that the Ministry had rebutted similar false reports earlier on 18 December 2020. As reiterated earlier, there is no change in Pakistan's principled position.
The statement also reiterated Pakistan's principle support for Palestine and Plestinians.
There is no change in Pakistan's principled position. Pakistan has consistently called for a two-state solution, with pre-1967 borders and Al-Quds Sharif as the capital of Palestinian State, it noted.
Zulfi Bukhari – former SAPM on Overseas Pakistani, also took to social media to turn down news reports claiming that he had secretly visited Israel.
Meanwhile, Moeed Yusuf – National Security Advisor (NSA), responding to PPP Chairman Bilawal Bhutto's remarks, categorically denied of secretly meeting with Israeli officials.
Let me state categorically and on record that I have not had any meetings with any Israeli officials nor have I visited Israel, he said.
Pakistan shall continue to stand for Palestinians' right to a just two State solution. The rest are all conspiracy theories, noted Moeed Yusuf.
The development comes as earlier, various news outlets and social media platforms were circulating news that Pakistani officials held secret meetings with Israeli officials.