Health Canada approves 1st COVID-19 vaccine for youngest kids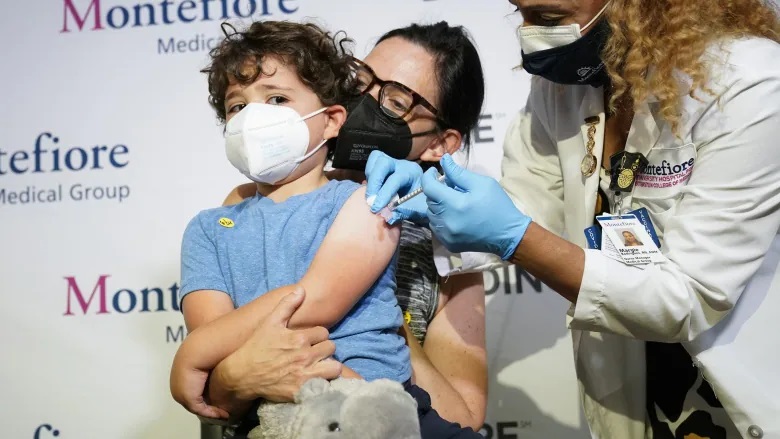 WEB DESK
Nearly two million of Canada's youngest children will soon be eligible for immunization against COVID-19 now that the federal drug regulator has approved Moderna's COVID-19 vaccine for infants and preschoolers.
Health Canada now says the Moderna vaccine can be given to young children between the ages of six months and five years in doses one-quarter the size of those approved for adults.
Moderna's product is the first COVID-19 vaccine approved for children under five in Canada.
"After a thorough and independent scientific review of the evidence, the department has determined that the vaccine is safe and effective at preventing COVID-19 in children between six months and five years of age," the Public Health Agency of Canada announced on Twitter Thursday.
The agency said it will continue to keep a close eye on the safety of the vaccine and has required Moderna to provide updated data on the safety and effectiveness of the vaccine.
In the decision posted on the Health Canada website, the agency said Phase 3 trial results for the drug show the immune response in children aged six months to five years was comparable to Moderna's vaccine for 18- to 25-year-olds.
Health Canada approves Moderna vaccine for children 6 months to 5 years
16 hours agoDuration1:51Health Canada adviser Dr. Supriya Sharma says the agency will continue to receive data from Moderna regarding its safety and effectiveness following its approval for use in younger children.
Trials studying the vaccine's effectiveness in young children were conducted this past winter when the Omicron variant became dominant.
Preliminary data showed the Moderna vaccine prevented symptomatic COVID-19 at a rate of 50.6 per cent in children between 6 and 23 months old, and at a rate of 36.8 per cent in children 2 to 5 years old.
About 1.7 million kids now eligible for vaccination
The approval expands COVID-19 vaccine eligibility to approximately 1.7 million children in Canada. The provinces will decide where and when the vaccine will be given to kids.
Dr. Howard Njoo, Canada's deputy chief public health officer, said that even children already infected with COVID-19 would benefit from the vaccine's added protection.
"COVID-19 vaccination in younger children will increase their protection against severe illness," Njoo told a news conference. "Even if a child has been previously infected with COVID-19, vaccination is still important."