Hurriyat leaders have raised communal violence concerns in Indian Occupied Kashmir (IOK) after blasphemous remarks by a Hindu priest named Satpal Sharma against Prophet Muhammad (PBUH).
Kashmiri leaders have raised concerns over communal violence to massacre Muslims in the disputed valley. Hindu leader, with the backing of Indian government have been inciting communal violence by indulging in irresponsible and derogatory hate speeches against Muslims of Jammu and Kashmir.
Khawaja Firdous – chairman Democratic Political Movement, has said that Narendra Modi led nationalist BJP government intends to enforce RSS-backed Hindutva agenda in J&K and inciting communal violence against Muslim majority population of IOK, which might very well result in massacre of Kashmiri Muslims.
Ghulam Muhammad Khan Sopori – another veteran Hurriyat leader has strongly condemned blasphemous remarks by a Hindu priest, further stating that such statements are orchestrated and designed statements 'to test Muslims and break the harmony'.
"Any act of dishonor is unacceptable for every Muslim of the world and to raise voice against this act is the matter of faith for every Muslim. We will never tolerate any derogatory language against our beloved Prophet, nor can we remain silent against any disrespect," said Islamic Political Party Chairman Mohammad Yousuf Naqash.
Meanwhile, Advocate Davinder Singh Behl – Chairman Jammu and Kashmir Social Peace Forum, highlighted that followers of different religions and sects have always lived with peace, harmony and brotherhood in Kashmir.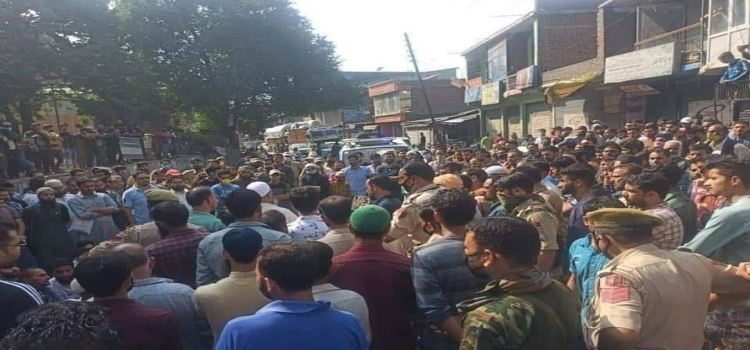 "Modi government is deliberately using BJP and SS goons to hurt religious sentiments in occupied Kashmir," he noted.
Chairman Jammu and Kashmir People's Freedom League – Muhammad Farooq Rehmani, has also termed such blasphemous remarks as a incitement to violence and that such acts are intended to instigate communal violence 'to start killing of the Muslims in the turbulent region'.
It is to be noted that mass demonstrations and protests have been staged in various parts of IOK over blasphemous remarks against Prophet Muhammad (PBUH).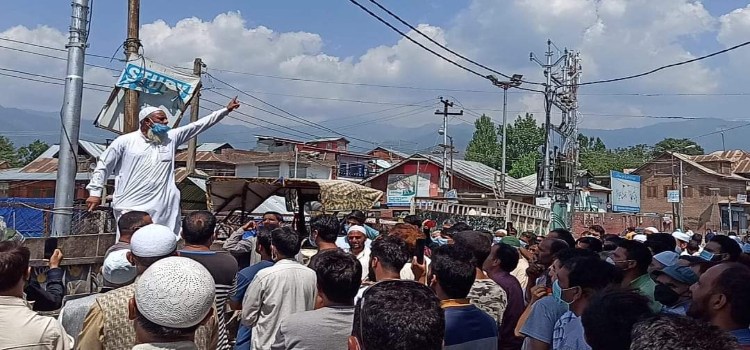 Large number of people have taken to streets in Ramban, Banihal, Doda, Bhaderwah, Kishtwar, Poonch, Rajouri, Reasi, Jammu city and other parts of the disputed valley after protest calls given by Markazi Majlis-e-Shura Kishtwar, Sout-ul-Awaliya, Anjuman-e-Islamia Kishtwar and various other Kashmiri organizations.