India's ongoing 'Holocaust'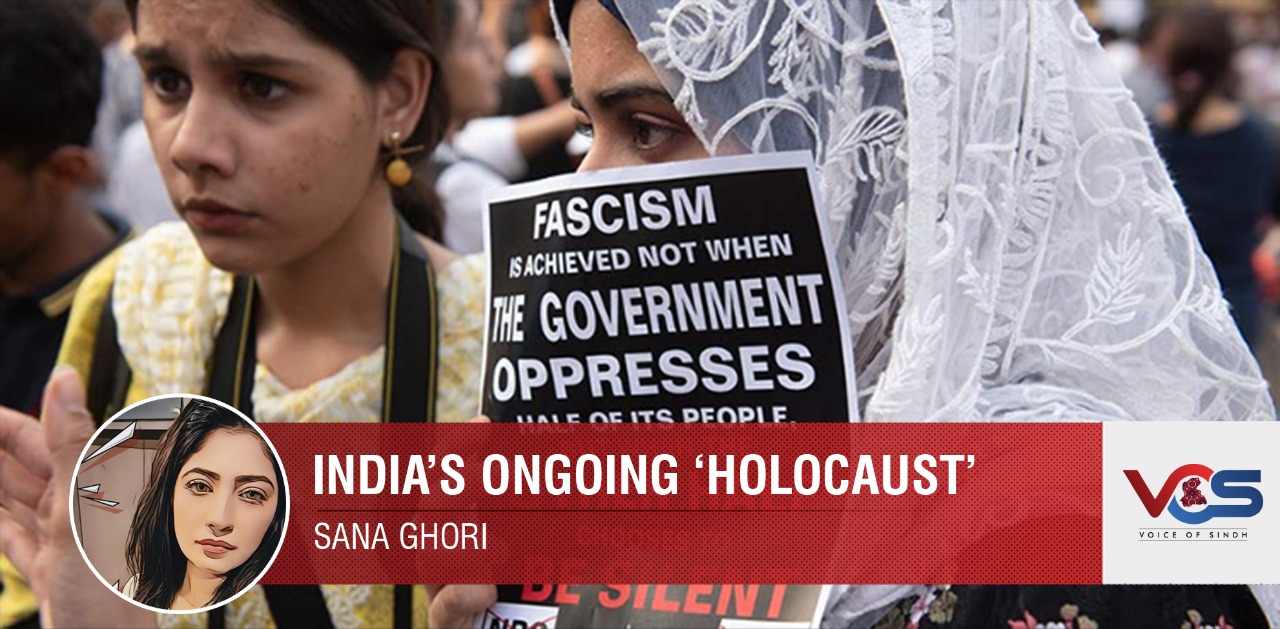 "Our children are seated in the back seats of the class." This sad revelation was made by a Muslim woman from India, despite the fact that abuse of Muslims and other religious minorities in the neighbouring country is no secret and I'm well aware of the fact how Muslims are mistreated in particular.
I was astonished that the country, a society that claims to believe in secularism could stoop so low so far as to discriminate against innocent children in schools. Listening to the plight of this woman, I can now understand that religious minorities in India, especially Muslims are being subjected to discrimination and prejudice to a much further extent than we know.
On multiple occasions, India has used Abdul Kalam as President, Manmohan Singh as Prime Minister and eventually Bollywood to falsely propagate a narrative that religious minorities in the country not only have all the rights but can also hold the highest public offices in the country; however, this façade is proving to be ineffective. In its annual report, the United States Commission on International Religious Freedom (USCIRF) has criticized India and has expressed concerns about the alarming situation of religious freedom of minorities in India. The report concludes that "Violations of religious freedom are a result of Bharatiya Janata Party's (BJP) promotion of Hindu nationalist policies. According to the commission's report, state and non-state elements have tortured Muslims under the religiously discriminative Citizenship Amendment Act (CAA), and Muslims were subjected to police aggression and violence by Hindu extremists as part of a well-orchestrated scheme. The report further says that the Modi government is using the controversial citizenship laws as a weapon against Muslims and the opposition. Violence has been encouraged by banning interfaith marriages based on the false pretext of forced conversions. According to the report, the Indian Parliament imposed further restrictions on organizations working for religious freedom and human rights in the country. Amnesty International was forced to close its offices in India after the government froze its bank accounts, while minorities were targeted with misleading information and hate speech at the start of the COVID-19 epidemic."
The US report also noted that the acquittal of all those responsible for the demolition of the Babri Masjid and the government's silence on religious violence had in fact encouraged hatred and violence in India. According to the report, Hindu nationalist groups, free from the fear of any legal backlash and punishment, attacked Muslims' homes, mosques and businesses. In its recommendations, the USCIRF has requested the US government that India should be given the status of a country of 'greater concern' regarding religious freedom, with the imposition of sanctions against those who violate religious freedom in India. The commission further suggested that religious freedom and human rights issues must be raised with India at bilateral and multinational levels, and that ongoing violations of religious freedom in India should be condemned.
It's unclear to what extent US President Joe Biden values this report, or whether he simply ignores it and sacrifices India's minorities and their rights for  US interests and bilateral relations between the two countries.
In the days leading up to this report, the maltreatment of India's religious minorities and innumerable violent incidents of violence against them have are essentially an evident reflection of the plight of those with minority status in Indian society. Asif – a young gym trainer hailing from Haryana's Mewat district, was abducted and tortured to death. Asif's family claims that he was a victim of 'mob lynching' as he was surrounded by a large number of people who forced him to chant 'Jai Shri Ram'.  The term 'mob lynching' means that Asif was specifically targeted and murdered not by one person or a few people but by the entire mob. The increasing mob lynching incidents against Muslims in India prove that that the extremist government and its stateless media have driven Indian society to significant deterioration and polarization. This madness and mayhem are essentially targeting the lives and property of Muslims along with their places of worship. These violent acts are not being carried out only by Hindu extremist mobs, but in fact, the Indian state is fully involved in this. For instance, the 100-year-old 'Masjid Gareeb Nawaz Al Maroof' was demolished in Barabanki, Uttar Pradesh. The mosque was not demolished by Hindu extremists like the Babri Masjid, in fact, the structure was termed as 'encroachment' and was demolished by the local administration itself.
With such examples of oppression, hate and prejudice, a new account of Hindutva atrocities is being written on the islands of 'Lakshadweep'. Located at a distance of around 300 kilometers from the Indian state of Kerala in the Arabian Sea, the Lakshadweep Islands have a Muslim-majority population same as Kashmir. Muslims account for 99 % of the total population of these islands. Spread across 32 square kilometres, these 36 islands are home to around 64,000. However, India's Hindu extremist government its allies are not willing to tolerating any small Muslim majority population within Indian territory.
The Modi government has appointed a Hindu extremist administrator to run the federally administered Lakshadweep, which has tormented the lives of local Muslims by enforcing India's antagonistic laws on these islands. Meanwhile, efforts have been made to change the demographics of these islands. Praful Khoda Patel – Administrator Lakshadweep islands, is the same individual who as Home Minister was involved in the anti-Muslim riots in the Indian state of Gujarat. Ever since appointed to the post, Mr Praful Khoda Patel has initiated resettling of non-native Hindus on Lakshadweep islands. At the same time, the homes and businesses of local Muslims are being destroyed, arrests are being made under new laws, food and dishes comprising of meat have been banned in schools under the new regulations, whereas locals have stressed that they're accustomed to eating fish and consuming protein from meat obtained from various animals. Under the new reforms, cow slaughter is strictly banned in these Muslim-majority islands. Alcohol consumption, which was previously banned has now been permitted. These government measures have caused fear and anguish among the native peaceful people of Lakshadweep who are protesting against the new rules and regulations. Now the world which is unwilling to address important issues like Kashmir, why would be heed to the issues of this small and remote population.
None of the religious minorities including Sikhs and Christians, are safe from India's Hindu extremist government and Hindu nationalist parties; however, Muslims have been the primary target of these extremists. It's evident that the extremists are trying to 'cleanse' India from Muslims to erase every monument of Islamic history from Indian soil as done in Spain. Let it be Kashmir, Mewat, Barabanki or Lakshadweep, the Modi government, BJP and their allies are utilizing every tactic to wipe out, oppress and weaken the Muslims. This slow-paced 'Holocaust' is not only being ignored by the international community but Muslim countries have also turned a blind eye to this tragedy as it unfolds.