India's Pro-Israel Stance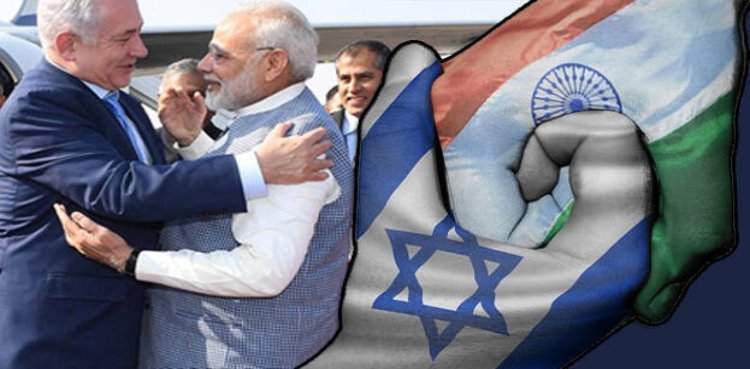 At a time when philanthropists and humanitarians all around the world including Americans and Jews themselves, were unanimous in condemning the Israeli attacks on Gaza; Hindu extremists in India stood shoulder to shoulder with Israel. Blinded by the anti-Muslim sentiments, supporters of the Modi government and the followers of Hindutva so that they were left oblivious and ignorant to the bodies of the little children who were killed in the Israeli bombing campaign.
Throughout the Israeli aggression, Indians on social circulated and supported hashtags such as #IsrealUnderFire, #IndiaStandsWithIsrael, #IndiaWithIsrael and #ISupportIsrael to express solidarity and support for the Zionist state. Additionally, mirroring Israel's stance, Indians also labelled Hamas as a terrorist organization and even went ahead to classifying all Palestinians as terrorists via hashtags such as #PalestineTerrorists which notably became a top trend on Twitter in India. Indian support for Israel on social media, especially on Twitter and Instagram, was not limited to the general public, as prominent leaders of the ruling Bharatiya Janata Party (BJP), lawyers and journalists were at the forefront of this pro-Israel and anti-Palestinian campaign. Tejasvi Surya – a BJP member of parliament, took to Twitter and said, "Israel, we are with you, stay strong Israel." Similarly, BJP leader Goryo Goel posted a picture of Israeli soldiers. "Dear Israelis, you are not alone, we Indians stand with you;" meanwhile a renowned Indian social media activist took to social media to post a picture of a destroyed building in Gaza which was in flames due to Israeli bombing with the caption " Congratulations Liberals. "
Historically, India has been a supporter of the Palestinian liberation movement, but it was all a sham aimed at convincing and reminding itself as a state with humanity and other noble values, to redeem itself among the anti-Israel communist bloc and portray the country as a friendly state to the Muslim countries. As long as the Congress government was in power, this pretence was being carried out rather smoothly, but with the advent of the Hindutva government, this veil and facade of hypocrisy gradually deteriorated. India recognized Israel back in 1950, but diplomatic relations between the two countries were established in 1992. Since then, driven by mutual anti-Muslim and anti-Pakistan sentiments, relations between India and Israel, have grown to an extent that India is the largest buyer of Israeli military equipment and Israel supplies most defence equipment to India after Russia.  India accounts for around 46% of Israel's total military exports. It is no longer a secret that Israel has been helping India in crushing resistance in Kashmir and in operations against Pakistan.
Relations between Israel and India have grown exponentially over the past few decades. Particularly during the tenure of Hindu extremist politician Narendra Modi and Israeli Prime Minister Benjamin Netanyahu, the two countries have seen a significant increase in bilateral cooperation. In July 2017, Narendra Modi, who considers PM Netanyahu as his friend, visited Israel, making him the first Indian Prime Minister to visit the Zionist state. India's secular and liberal intellectuals have termed this growing friendship and cooperation between India and Israel as an 'alliance of Zionism and Hindutva'. The common ideologies and agendas of these two extremist and racist ideologies make them natural allies. Hatred for Muslims is the common factor between the two ideologies which has in fact brought them closer together, with the desire to destroy Palestinians on one hand, and the dream of eradicating the Kashmiris on the other, which essentially provides another cause for unity between the two countries. A significant depiction of anti-Muslim sentiments of Indians who are followers of Hindutva ideology was witnessed during the visit of former Indian Foreign Minister Jaswant Singh to Israel. During the tenure of Indian PM Atal Bihari Vajpayee, Jaswant Singh was the first Indian Foreign Minister to visit Israel in 2000. During his visit, he kissed Jerusalem's 'Wailing Wall' and remarked that, "Due to the policy of satisfying the minorities, India faced a delay in establishing diplomatic relations with Israel." The term 'minorities' was essentially targeted towards India's Muslim population, and whose "satisfaction" was the primary hurdle against India's friendly relations with Israel.  Anyways, this is when India had openly joined hands with Israel, but the story of the nexus between the two countries is much older. According to Delhi-based Indian journalist Masoom Muradabadi, back in the 1970s, the Israeli Defense Minister Moshe Dayan paid a secret visit to India and met then-Prime Minister Morarji Desai. The visit was arranged by the ruling Janata Party's Union Minister Dr Subramanian Swamy, who is still considered Israel's oldest and most trusted friend in India.
Today, as part of its pro-Israel stance, India has gone so far that any anti-Israel voices in the country are unacceptable and intolerable for the  Modi government. Hence, around 21 protesters were arrested during anti-Israel protests held in the Indian Occupied Kashmir's (IoK) capital Srinagar in wake of the recent wave of Israeli atrocities against Palestinians.
In this context, the speech of the Indian envoy to the UN Security Council, T. S. Tirumurti, seemingly supports the Palestinians, but in reality, this speech is a reflection of India's hypocritical policy. The speech criticized the rocket attacks on Israel but refrained from condemning Israel's indiscriminate bombing of Gaza and its aftermath. In this way, India tried to address the concerns of Arabs and Muslims on the one hand and extended its aid to Israel on the other. India's approach is enough to open the eyes of those Muslim countries who consider India their friend and refrain from supporting Pakistan on the Kashmir issue in order to keep India happy.