Karachi declared 8th 'most stressful' city in the world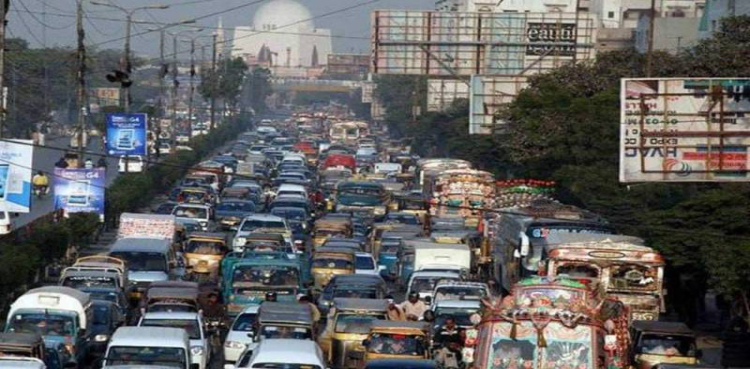 Karachi has been declared as the 8th 'most stressful' city in the world in 2021 by a German company VAAY.
With a score of 36.6, Karachi is ranked at 93rd position on the World's Most Stressful Cities list making it the 8th most stressful city to live in around the world.
Karachi scored 17.9 in safety and security; 15.4 in Socio political stability; 11.9 – gender equality; 25.8 – minority equality; 4,246 people on density (per/km2); 65.4 – traffic congestion; 56.1 – weather; 21.3 – air pollution; 11.1 – noise pollution; 93.3 – light pollution; 4.7% – unemployment rate; 78.8 – financial stress; 22.7 – social security; 85.3 – mental health; 17.2 – access to healthcare and 82.2 on COVID-19 response stress impact score.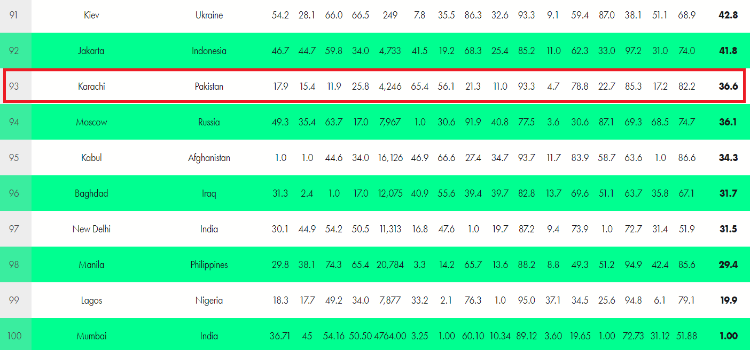 The 'most stressful' cities are as follows;
Mumbai, India
Lagos, Nigeria
Manila, Philippines
New Delhi, India
Baghdad, Iraq
Kabul, Afghanistan
Moscow, Russia
Karachi, Pakistan
Jakarta, Indonesia
Kiev, Ukraine
Read More: Karachi amongst world's 'least liveable' cities
Meanwhile, the least stressful cities include;
 Reykjavik, Iceland
Bern, Switzerland
Helsinki, Finland
Wellington, New Zealand
Melbourne, Australia
Oslo, Norway
Copenhagen, Denmark
Innsbruck, Austria
Hanover, Germany
Graz, Austria
The Least and Most Stressful Cities Index 2021
'The Least and Most Stressful Cities Index 2021' compiled by VAAY compares and analyses 100 global cities for indicators related to stress. The cities were chosen for their size and significance, as well as for their availability of reliable and comparable data. The study consists of 4 broad categories – governance, city, finance and citizens' health – each made up of individual stress indicators that determine how stressful a city is to live in.
Governance
Governance
Safety and Security (Score)
Socio-Political Stability (Score)
Gender Equality (Score)
Minority Equality (Score)
City
Density (persons/km2)
Traffic Congestion (Score)
Weather (Score)
Air Pollution (Score)
Noise Pollution (Score)
Light Pollution (Score)
Finance
Unemployment Rate (%)
Financial Stress (Score)
Social Security (Score)
Citizens' Health
Mental Health (Score)
Access to Healthcare (Score)
Covid Response Stress Impact (Score)