Karachi: Physics paper leaked as Matric board exams commence from today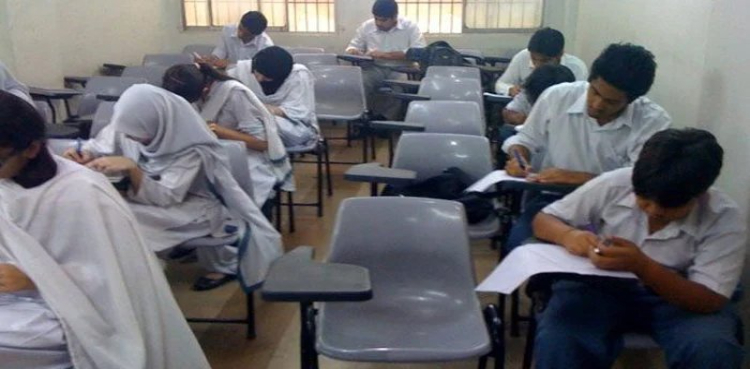 A physics paper was leaked as matric/SSC examinations commence across Sindh on Monday (today).
Matric board exams have commenced from July 5th Monday (today). However, Physics paper was leaked as the exam started on 9:30 and the questionnaire was available outside the examination centers after four minutes.
The duration of each paper is be 2 hours. The Board of Secondary Education Karachi (BSEK) has extended the duration of matric exam after class 10 paper could not be delivered at various examination centers in the city.
The exam which was scheduled to start at 9 am was commenced at 9:30 am.
Meanwhile, there have been reports of exam questionnaire not been able to be delivered at examination centers in Dhoraji, Gulshan-e-Iqbal, Landhi, Korangi Sachal Goth and various other areas.
Government has imposed Section 1444 at 438 examinations centers across Karachi.
Out of the total 438 examination centers, 201 are for girls whereas the rest 237 are for boys; 253 examination centers have been established at private schools and 185 at government schools.
The science group's papers would start at 9 am and end at 11 am, while the general group's exams will begin at 2:30 pm.
In the general or Arts group, overall 8,082 boys and 10,974 girls are expected to appear in matric exams while 7,682 male students and 10,942 girls will take part in ninth papers.
Meanwhile, in Science group 83,436 male students and 70,621 female students will appear for matric exams in the Science group while 83,645 male students and 72,867 girls will appear for the ninth exams
A total of 348,249 students are expected to appear in class 9 and 10 examinations.
It is pertinent to know that as per government's announcement, students who fail to clear examinations will be given passing marks in elective subjects and further marking of compulsory subjects would be made as per the numbers obtained in elective papers.
Meanwhile, schools and colleges will hold practical exams after the culmination of theory examinations within their premises.