Karchiites protest outside DHA, Clifton Cantt board offices over their administrative failure amid recent rain spell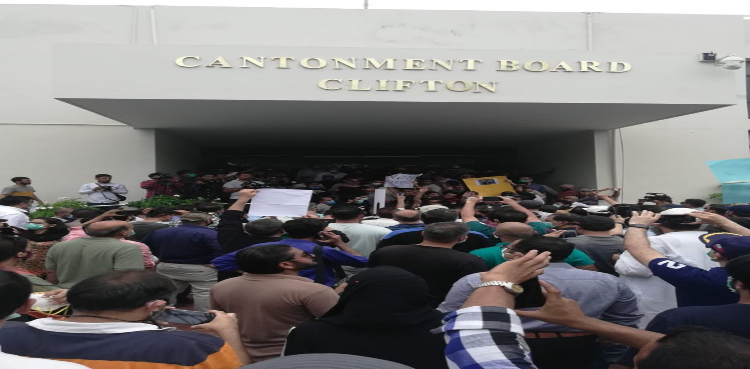 Karachiites on Monday, took to street and protested outside Defence Housing Authority (DHA) and Cantt board offices over their absolute administrative failure during recent rain spell in Karachi.
Residents holding playcards and chanting slogans against DHA and Cantt board officials over their failure to ensure and manage an effective drainage system which in return resulted in severe urban flooding in residential areas.
The protesters highlighted that they pay such high taxes, and yet administration had completely failed in addressing flooding and water logging issue in these areas.
They further accused DHA and Cantt board officials of criminal negligence as they did not make necessary preparations despite being duly informed by Met Department and PMD officials.
The lack of proper infrastructure, drainage system has resulted in appalling conditions in these areas as peoples' houses have been left inundated in rain and sewage water for days now, resulting in property damages worth up to millions of rupees.
The residents of DHA and Cantonment Board Clifton have demanded a thorough audit of both of these authorities as they are duly accountable to the people and residents.
It is to be noted storm water drains were designed in DHA in 2004-2005 with a cost of up to Rs 3 billion, roads were excavated and especial slabs were put in place in between the roads.
These 'box drains' were then later handed over to Cantonment Board Clifton (CBC) in 2008, who was made in charge of maintenance.
However, this interim solution proved to be insufficient and ineffective during recent torrential rains.
Meanwhile, DHA officials have maintained that these storm water drains were constructed with consideration of Karachi's previous 100 years of record rainfall and were designed to sustain 207 mm of rain within 24 hours, whereas recent rain spell was recorded to be 235 mm in 12 hours, which caused water logging in these areas.