KCR revived after 20 years, ceremony held at City Station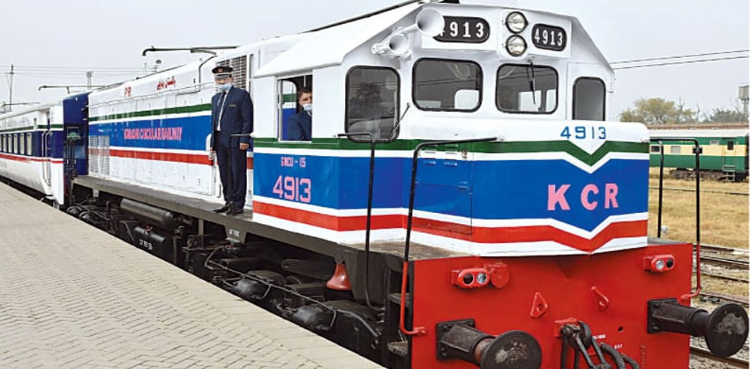 Karachi Circular Railway (KCR) has been restored after twenty years on Thursday (today)
Federal Minister for Railways Sheikh Rashid Ahmed on Thursday, inaugurated Karachi Circular Railway in a ceremony at City Station Karachi.
Addressing the ceremony, Sheikh Rashid Ahmed announced that four trains will be operated on a daily basis in the first phase of KCR restoration. The trains will run from Pipri to City Station and the fare has been set at Rs 30, whereas monthly travelling pass will cost Rs 750.
The federal minister noted that Rs 1.8 billion have been allotted for the project, of which Rs 17 million have already been spent.
KCRT will be extended to other parts of the city, he added.
Expressing his views on the hurdles, railway minister highlighted that railway's land has been encroached and illegally occupied by land mafia in Karachi.
The development comes as Supreme Court of Pakistan (SC) in February earlier this year, had directed Sindh government and Ministry of Railways to remove encroachments and restore KCR within six months.
KCR – a Brief History
Karachi Circular Railway came into being during President Ayub Khan's tenure, who in 1962 suggested the use of trains as a means for short travel in Karachi. Operations began in 1969 under the administration of Pakistan Railways, with the aims to provide better transportation facilities to Karachi's growing population and outlying surrounding suburban communities. The original KCR line extended from Karachi City station and ended at Drigh Road station and carried 6 million passengers that year
Its instant success made Pakistan Railways a significant profit in its first year of operation. In 1970, KCR was expanded further east to Landhi Junction station while new track was extended westwards, thus opening Karachi Port Trust Halt station and Wazir Mansion station in 197 followed by further expansion westwards and northwards towards North Nazimabad, forming a "loop line" which circled around several of Karachi's residential and industrial areas. At its peak, KCR ran 104 daily trains, of which 80 trains ran on the main line, while the remaining 24 trains ran on the loop line.
By 1994, KCR was in incurring major losses due to mismanagement. As a result, the vast majority of trains were discontinued with only a few running on the loop. By 1999, KCR operations had been discontinued.