Major markets in Karachi— including Zainab Market, Madina City Mall, Victoria Market, International Market, Gul Plaza and Arham Shopping Centre — were sealed by Karachi Police on Wednesday over the shopkeepers' failure to adhere to safety guidelines to guard against the spread of the coronavirus.
Shoppers have flocked the markets after the lockdown was eased earlier this week, throwing caution to the wind and rushing to shops with Eid fast approaching.
A complete defiance of necessary precautions was witnessed. Masks and frequent use of sanitisers was completely absent.
After this exhibition of violations, the city's police sealed all major markets in the southern region. The traders association has reacted to this decision strongly calling it unfair and a blow to business activity which is already under the throes of the lockdown.
Speaking to Voice of Sindh, Jamil Paracha, President Sindh Traders' Alliance, called the move injustice as the traders were told that action will be taken from Thursday against violations on Wednesday.
"The commissioner Karachi was in meeting with us today where it was agreed between traders and administration that we will work together. But the markets were sealed right after the meeting was over. "
"We have limited opportunity to hold business activity for four days in a week until 5 pm. We need the administration to cooperate with traders to ensure the guidelines are observed," Paracha said.
Commenting on what kind of cooperation traders are looking for on part of administration, he pointed out, "We should be given volunteers or police or traffic wardens should be deputed in markets during the business hours. Otherwise, shopkeepers cannot control the customers on their own."
Across the world, easing of lockdown is conditional to ensuring social distancing, frequent hand and surface sanitising guidelines. Shop owners are gatekeeping customer interaction on their premises y allowing less people inside their shops at one time and making sure the waiting queue is observing social distancing.
Temperature check is mandatory before entering the shop premises and anyone without masks is completely refused to allow entry.
However, traders in Sindh have failed to follow any of these safety precautions.
Paracha said the shopkeepers are observing the SOPs but cannot control the customers who come to the markets in hundreds. He said it is not only the responsibility of traders and shopkeepers.
However, according to Assistant Commissioner Asma Batool, the shopkeepers were neither wearing masks or gloves, nor using sanitisers.
Earlier, when the traders were urging the government to ease the lock down and allow them to open their businesses, they vowed to completely ensure that guidelines are observed.
Many shops do not have sanitizer dispensers for customers and their own staff.
"The government must restrict people to not leave their homes without masks," said Paracha.
He added that the association has asked the traders to avoid being greedy and not allow more than two people in their shops at one time.
The shopping area in Zainab Market is extremely congested and most shops are open kiosks aligned across long hallways under the same roof. It is absolutely impossible to maintain two customers at a time rule under such an arrangement.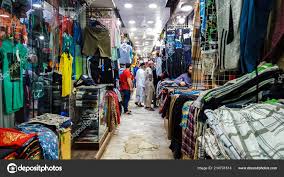 A portion of the market is also underground where readymade export quality garments are sold at very economical rates which is why the floor is always crowded with buyers, especially before a festival.
Similarly, Gul Plaza is also an open marketplace inside a multi-storey building in the heart of Saddar. Shopkeepers in such areas can never restrict customers' entry unless they are stopped outside the building's main entrance and allowed inside according to the SOPs.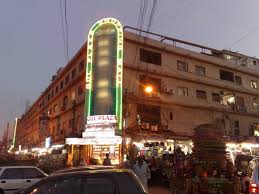 No amount of volunteers can hold check at entry points unless all of them sealed and on two, entrance and exit points are used during business hours.
The Sindh government allowed businesses to reopen after a long tussle with the center over easing of lockdown. The province has also announced heavy fines of up to rs1 million for guidelines violators. Despite all these precautions, major markets had to be sealed due to violations just three days after easing of lockdown.
The federal cabinet on Tuesday took serious note of flagrant violation of the government's standard operating procedures (SOPs) following reopening of several businesses. The Centre and Sindh also threatened to reimpose the lockdown if people do not observe social distancing in markets and workplaces.
Pakistan reported a record number of 2,255 coronavirus cases over the past 24 hours on Wednesday. The spread has been found due to local transmission which has showed a dangerous upward trajectory in a recent report by the World Health Organisation.
The report ranked Sindh at second number, where 92 per cent were local transmissions and 8 per cent imported cases.
As of May 13, more than 34,000 cases of the virus with more than 700 deaths have been reported across Pakistan after most cities have eased lockdown from May 9 and markets are allowed to operate between 6am and 5pm.