No deal with federal government over Karachi, executive authority remains with Sindh: CM Murad Ali Shah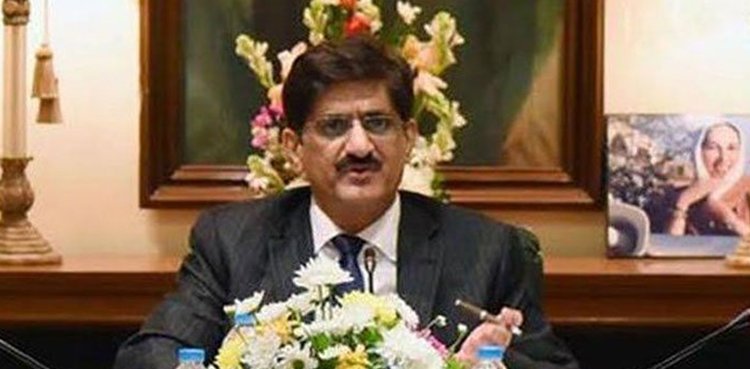 Sindh Chief Minister Murad Ali Shah has denied any deal with federal government over Karachi, reiterating that executive authority and power on provincial matters rest with Sindh government.
Addressing a press-briefing on Monday, CM Murad Ali Shah denied reaching any deal over Karachi with federal government and that no such committee has been formed so far.
Murad Ali Shah reiterated that the executive authority and power on provincial issues lies with Sindh government and Sindh Assembly and cannot be surrendered or shared in any way with federal government or any other authority.
However, he stressed upon Sindh government's willingness to cooperate with federal government and institutions to jointly address issues faced by Karachi.
"We are ready to work with Centre for the betterment of Karachi, but will not share executive powers of the province with anyone," he said.
CM categorically denied any political alliance with Pakistan Tehreek-e-Insaf (PTI) and Muttahida Qaumi Movement Pakistan (MQM-P).
"There was talk of forming of a committee but there has been no agreement yet," he noted.
The Chief Minister blamed recent urban floods in Karachi on encroachments and illegal construction on drainage infrastructure of the metropolis.
It is pertinent to know that earlier, a meeting was held at Governor House Sindh which was attended by Governor Imran Ismail, Federal Ministers Asad Umar, Ali Zaidi, CM Murad Ali Shah, provincial ministers Naisr Hussain Shah and Saeed Ghani and Chairman NDMA Lt. Gen Muhammad Afzal to discuss the issues and hurdles faced by various developmental projects of the metropolitan city.
The meeting mulled over mutual cooperation between the federal and provincial government to address Karachi's civic issues.
It is to be noted that both Sindh and Federal governments have been facing severe criticism after recent torrential rains in Karachi, which resulted in urban flooding causing several casualties and causing damage to peoples' properties worth millions of rupees.