OIC's Meeting on Kashmir issue nullifies Indian propaganda against Pakistan and Muslim countries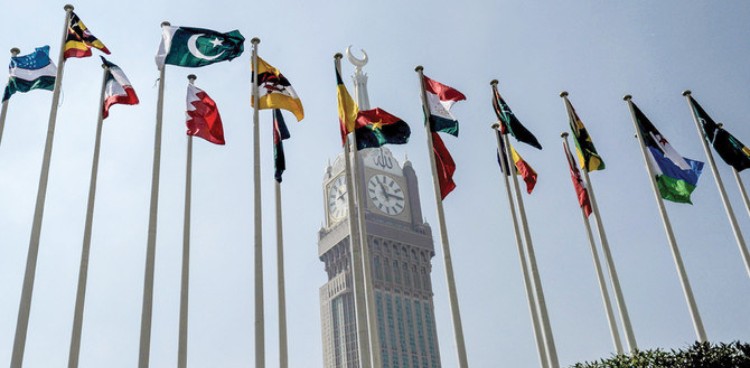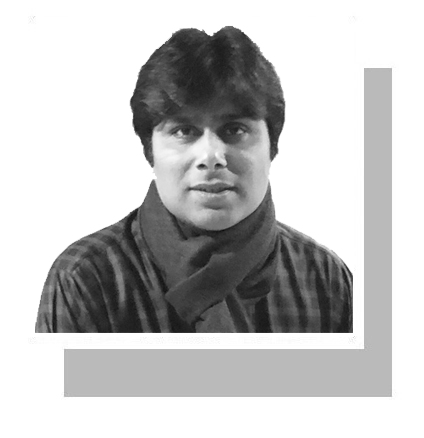 India, on multiple occasions, has been striving to undermine Pakistan's relation with Islamic countries, especially UAE and Saudi Arabia and its status, role in Organization of Islamic Cooperation (OIC). Indian efforts to influence the 57-member Muslim alliance has been primarily directed at diverting attention from the prevailing situation in Indian Occupied Jammu and Kashmir (IOJK) which is being subjected to grave human rights violations, atrocities and brutalities by Indian forces who in-fact have been given absolute impunity over their actions against the Muslim majority population of the disputed valley.
India's Propaganda at work
Indian media, known for its 'puppet nature' and blatant propaganda has been extensively busy in churning out brazen untrue narrative, claims arguing that OIC and Pakistan key allies such as Saudi Arabia and United Arab Emirates (UAE) have refused to address Kashmir issue.
Indian media, on directions from its Narendra Modi led right-wing nationalist BJP government, has once again claimed that Kashmir issue will not be discussed at the 47th Council of Foreign Minister (CFM) meeting of OIC being held in Niger on November 27th – 28th.
Indian claims are in-fact nothing but desperate attempt at undermining the strong bond shared between Pakistan and OIC member states, especially KSA and UAE.
The fact is OIC Contact Group on Jammu and Kashmir is set to hold emergency virtual meeting of Foreign Ministers of other member nations including Azerbaijan, Niger, Saudi Arabia and Turkey along with OIC-Independent Permanent HR Commission (IPHRC) to discuss worsening situation in Indian Occupied Jammu and Kashmir (IOJK).
India's failed attempts to influence OIC
India is a home to 172 million Muslims which constitute 14.2% of the country's population and making Islam the second largest religion in the country. India, citing its large Muslim population has been making significant efforts to secure its place as a permanent OIC member.
India has been using economic, trade ties with gulf countries to 'warm-up' to the Muslim countries and counter Pakistan's cordial relations with them.
However, India's efforts have so far been left in vain as OIC has so far showcased no intentions regarding giving OIC membership to India.
OIC reprimands India on anti-Muslim prejudice, Islamophobia
OIC, on multiple occasions has reprimanded India on increasing hate crimes, lynchings targeting Muslims along with increasing anti-Muslim prejudice and Islamophobia in the country under BJP government.
Indian capital Delhi was subjected to intense communal riots earlier this year. The riots overwhelmingly targeted Muslims resulting in at least 36 Muslim deaths.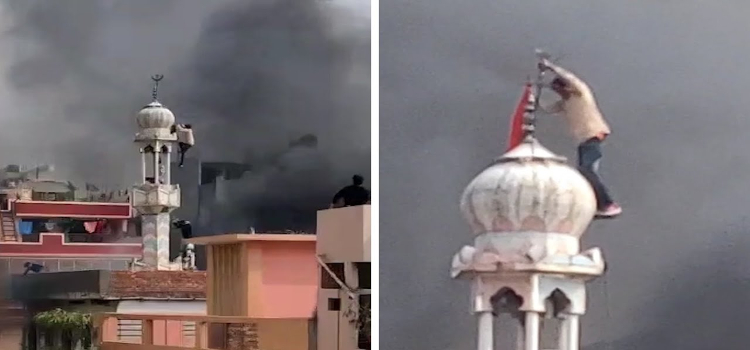 Muslims' houses were torched, mosques were desecrated – all done with the overt approval of government officials who practised 'criminal silence' and negligence towards the targeting of Muslims in the nation's capital.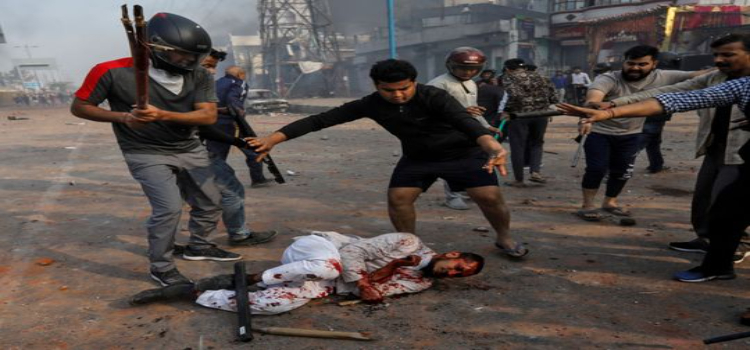 In response, OIC lambasted Indian government for its failure to protect Muslims and condemned the alarming violence against Muslims in India, resulting in the death and injury of innocent people and the arson and vandalism of mosques and Muslim-owned properties. It expresses its sincere condolences to the families of the victims of these heinous acts.
In its statement OIC urged India to bring the instigators and perpetrators of these acts of anti-Muslim violence to justice and to ensure the safety and security of all its Muslim citizens and the protection of Islamic holy places across the country.
In addition to it, OIC has also condemned the Indian government and media supported audacious narrative that blamed Muslims for spreading COVID-19 coronavirus in the country.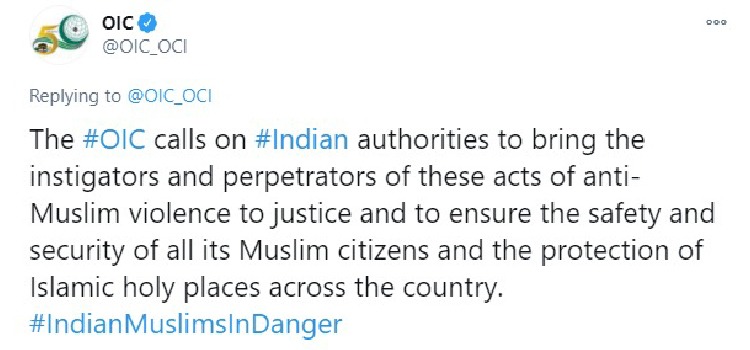 OIC General Secretariat had expressed deep concerns on rising anti-Muslim sentiments and Islamophobia within political and media circles and on mainstream and social media platforms, where Indian Muslim minority is blamed of spreading the coronavirus in the country
Support for Pakistan and Kashmir by OIC and other Islamic countries
OIC and Pakistan's key Muslim allies have continued their undeterred, unconditional support for Pakistan and its stance on Kashmir issue.
Turkish President Recep Tayyip Erdogan in his UNGA address, raised Kashmir issue and termed it as the 'key to the peace and stability of South Asia'.
Turkish premier called Kashmir issue as a 'burning issue' that need to be solved via dialogue within the framework of United Nations Resolutions and especially in line with the expectations of the people of Kashmir.
Furthermore, former Malaysian Prime Minister Dr Mahathir Mohamad has also openly supported Pakistan on Kashmir issue.
In his UNGA address, Mahathir Mohamad called for a peaceful resolution of Kashmir dispute and noted that despite UN resolution on Jammu and Kashmir, the country has been invaded and occupied.
India should work with Pakistan to resolve this problem. Ignoring the UN would lead to other forms of disregard for the UN and the rule of law, he said.
Conclusion
The overwhelming and unquestionable continued support to Pakistan from Muslim countries and OIC on Kashmir issue is a testament to Pakistan's effective and successful foreign policy in highlighting Kashmir issue on the international level.
Pakistan's progressive and pragmatic approach towards accentuating grave human rights violations by Indian forces in the disputed valley have been fruitful as several international watchdogs, bodies such as Amnesty International, UNHRC have condemned draconian policies enforced in the disputed valley by India.