Our soldiers cannot be butchered for diplomatic gains, Indian journalist smashes Chief of Defence staff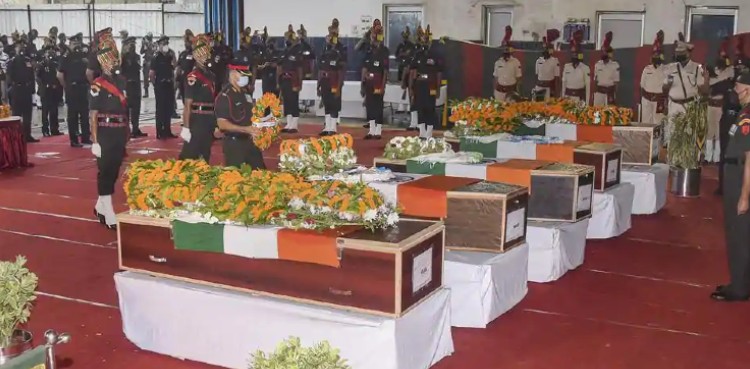 Indian journalist asked their army general to clarify their position in Gulwan Valley face-off with China.
Ambreen Zaidi – an Indian Journalist wrote an open letter to the chief of Indian Defence staff asking about the actual scenario, in which Indian soldiers killed by Chinese troops.
She wrote in her letter, "I do understand there are reasons why strategic decisions or outcomes are not shared in the public domain. But with a super active social media, so many contradicting statements and horrifying photographs doing the rounds, where do we go, whom do we trust?"
Ambreen is a well-known journalist and blogger. She has won several awards for her work. She has also worked with UNICEF and NASSCOM Foundation. As an Army wife, Ambreen has been involved in the welfare of retired soldiers, war widows, orphans and disabled soldiers.

Ambreen, is the founder of an organization called The Change makers where she and her team identifies, mentors and guides the ex-servicemen, war widows war orphans, till they are firmly placed and secure in the professions of their choice.
She also raised some serious questions on the recent encounter of Indian forces with Chinese troops, in which atleast 20 Indian soldiers were killed and dozens are critically injured.
– How did we suffer so many casualties, including that of a Commanding Officer, if there were no intrusions by China?
– Not only were our soldiers barbarically killed, their bodies were mutilated. Why?
– Did they enter the enemy territory on their own (as claimed by China) and got attacked in defence?
– Why us there a new spin to the Ladakh Disaster, everyday?
– Will we ever know the truth?
– Did our soldiers fell into the trap laid by their own?
She also criticized the Indian diplomatic policy while saying, "Our soldiers are not cannon fodder, they cannot be butchered for diplomatic gains. As crazy as it may sound, more than the Chinese military, it is you that we are warier of. Your policies, your directives and so ever evident step-motherly treatment to your very own is what concerns us more."
Zaidi also criticized the post of the Chief of the Defence Staff as when it "was created and it was communicated that all the tri-services, Indian Army, Navy, and Airforce will come under one umbrella so that India is better protected, it was reassuring. We felt safe more, on all the frontiers."
"But what is happening is completely opposite. We are facing a tough time both internally as well as externally, she added.
It is pertinent to mention that Narendra Modi led BJP government is facing serious criticism both from inside and out side the country.
Congress leader Rahul Gandhi in a tweet had accused Prime Minister Narendra Modi of surrendering Indian territory to China. "PM has surrendered Indian territory to Chinese aggression. If the land was Chinese: 1. Why were our soldiers killed? 2. Where were they killed?" Gandhi tweeted.
Read More: China can send its troops in Indian occupied Kashmir
Meanwhile, International affairs commentator Professor Victor Gao has warned if India doesn't stop penetrating in the line of actual control (LAC), then China will reserve the right to send its troops in Indian occupied Kashmir.
Gao said if India doesn't retreat from Chinese territory and we accept the Indian version of the conflict, then China also reserves the right to send its troops in the Indian occupied Jammu and Kashmir, as Pakistan has reservations on Indian activities in the region.