PAF's 'invaluable' assets: Mirage Fighter Jets
'The Dependable Delta' - PAF celebrates 50 years of Mirage fighter jets in its service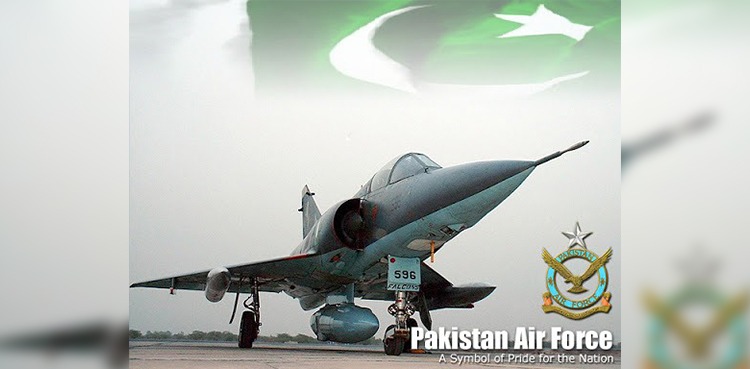 Pakistan Air Force (PAF) on Thursday (today) held '50th Anniversary of Mirages and Colors Award' ceremony at at Shorkot.
The ceremony commemorating golden jubilee of Mirage fighter jets being in service with PAF was also attended by President Arif Alvi and Chief of Air Staff PAF – Air Chief Marshall Mujahid Anwar Khan.
Expressing his views President Arif Alvi reiterated his faith in PAF's capability to defend the motherland and ensure a befitting response to any misadventure by the enemy.
Pakistan Air Force celebrates Golden Jubilee of Mirage aircraft. A graceful ceremony is being held at an Operational Air Base of PAF. President Islamic Republic of Pakistan, Dr Arif Alvi is the Chief Guest at the occasion.#DependableMirage pic.twitter.com/J967oPSnow

— DGPR (AIR FORCE) (@DGPR_PAF) February 25, 2021
Referring to PAF's Operation Swift Retort, President Arif Alvi said that any hostility will be retaliated with the likes of February 27 2019 when an Indian Mig-21 was shot down with its pilot being captured by Pakistan.
The premier also lauded PAF's technicians and engineers who have ensured that PAF maintains its supreme operational capability.
President Dr. @ArifAlvi attended the ceremony of 50th Anniversary of Mirages and Colours Award at PAF Base Rafiqui, Shorkot. pic.twitter.com/YJWsPYfPUw

— The President of Pakistan (@PresOfPakistan) February 25, 2021
PAF And Mirage Fighter Jets
PAF first acquired Dassault Mirage III fighter jets from France in 1968 which were followed by procurement of Mirage V aircraft in 1970.
All of PAF's Mirage fighter jets have been upgraded under 'Project ROSE' (Retrofit Of Strike Element) which has enabled these aircrafts to carry out precision strike during night.
PAF originally acquired 135 Mirage IIII and 139 Mirage V aircrafts. Currently it operates 56 Mirage III and 69 Mirage V fighter jets as the rest have been phased out/retired.
PAF has successfully operated Dassault Mirages for 50 years now – a feat only handful of air forces have accomplished around the world.
The astonishing accomplishment was achieved via a comprehensive maintenance and overhauling capacity building in the form of Mirage Rebuild Factory (MRF), Kamra.
MRF is a dynamic setup that undertakes variety of aircraft and engine overhauls. The setup became a bench mark of MRO for western systems technology through overhauling of Mirage aircraft for the last four decades. The factory undertakes complete MRO solution from testing to overhaul of Aircraft components and major inspections of fixed wing aircraft.
MRF is responsible for structure repair of western platforms and weapon systems of PAF. This also includes damage analysis and formulation of repair schemes.
MRF also upgraded PAF's vintage platforms with modern Avionics suite along with weapon integration. Air to Air Refueling capability in Mirage aircraft was undertaken by acquiring state of art capabilities by MRF.
Furthermore, PAF's MRO (Mirage Aircraft Overhauling) facility which is capable of overhauling  Mirage III aircrafts.
Mirage fighter jets have in fact been the backbone of PAF over the years. The ground attack phase of 2019 Operation Swift Retort was also carried out by PAF's Mirage fighter jets.
Furthermore, Mirage jets also remain the only platform in PAF's inventory capable of delivering indigenously developed 600-km "Ra'ad" nuclear-capable Air launched cruise missile (ALCM) developed by Air Weapons Complex (AWC).