Pakistan Economic Survey 2021: Shaukat Tarin reveals GDP growth and other key economic indicators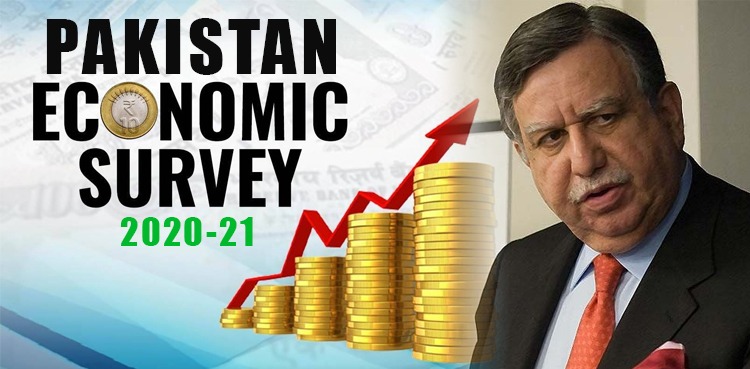 Federal Finance Minister – Shaukat Tarin presented 'Pakistan Economic Survey 2020-21' on Thursday (today) revealing GDP growth and various other key economic and financial indicators.
Addressing a press briefing pertaining to Pakistan's economic performance over the past 12 months, Shaukat Tarin revealed that the country in fact surpassed its various economic growth targets with various sectors showing significant improvement during this time period.
The federal minister apprised that country's GDP growth rate stands at 3.94% which is a notable improvement than the previous 2.1%.
Pakistan Economic Survey 2020-21 Highlights
Working population back to 53 million people out of the 55 million who were unemployed.
Agriculture growth recorded at 2.77%.
Rs 4.2 trillion collected by FBR.
Country surpassed IMF and WB's growth targets.
IT industry grew by up to 50%.
Large Scale Manufacturing (LSM) increased by 9%.
PES_2020_21-compressed

Growth In Various Sectors
GDP – Pakistan's GDP grew by 3.94% in the last 11 months in contrast with the 0.4% contraction last year. Shaukat Tarin stressed the need to address the issue of bank footprint which stands at 33% as compared to Bangladesh's 50% and South Korea's 100%.
The agriculture sector grew around 2.8% against a target of 2.8%. The industrial sector registered a growth of 3.6% against a target of 0.1%, while services grew 4.4% against a target of 2.6%.
Pakistan's imports also increased by 9.4% to US$ 37.4 billion. The imports stood at US$ 34.2 billion in 2020 last year.
Exports, Imports And Trade Deficit – Country's exports grew by 2.3% reaching US$ 18.7 billion in March 2021, whereas it stood at US$ 18.3 billion during the same time period last year. Pharmaceutical, textile industry and cotton yarn emerged as the most notable products contributing to increase in the exports which are expected to reach US$ 25 billion by the end of June 2021.
The significant contrast in imports and exports led to increase in country's trade deficit which has been recorded at 17.7% i.e. US$ 18.7 billion as compared to US$ 15.9 billion in 2020.
Tax Collection
Revealing country's performance in tax collection, the Economic Survey 2021 report highlighted that the Federal Board of Revenue (FBR) collected Rs 3,780.3 billion in taxes reflecting an increase of 14.4% as compared to last year.
The country in fact surpassed its own revised tax collection target of Rs 4,691 billion by a significant margin of Rs 100 billion.
Areas of Concerns
The survey report also highlighted various areas of concerns for the government including both which needed improvement and those which haven't been exploited and benefited from as per their potential.
The power sector is a tough challenge for the government, said Shaukat Tarin. PM Imran Khan has turned down IMF's demand to increase power tariffs, he added.
The Economic Survey 2021 report also accentuated the issue of circular debt which stood at Rs 200 billion. However, country's current account reported a surplus of US$ 959 million against the US$ 4,147 million deficit of 2020.
Additionally, Pakistan recorded a drop in inflation with Consumer Price Index (CPI) of 8.6% as compared to last year's 11.2%. The reduction in inflation rate is a positive indicator, still more improvement needs to be made as the government had set a target of inflation rate of 6.5% for FY2021.
The country also experienced a marginal increase in national debt which grew by Rs 1.67 trillion, taking the total debt to Rs 38 trillion of which Rs 12.5 trillion is in fact foreign debt, whereas Rs 25 trillion is local.
PM Imran Khan Receives 'Pakistan Economic Survey 2020-21' Report
Earlier in the day, Finance Minister Shaukat Tarin had met with PM Imran Khan and presented him Pakistan Economic Survey 2020-21 report regarding country's economic and developmental growth during the past 12 months.