Pakistan Navy (PN) on Sunday, inducted its first Chinese made Type-054A frigates in an auspicious ceremony held at at Hudong Zhonghua Shipyard in China.
Rear Admiral M Arshid Javed – Director General Public Relations (DGPR) Navy, announced the induction ceremony of the first 'state of the art' Type-054A frigate vessel in Pakistan Navy fleet.
Commodore Azfar Humayun (Chief Naval Overseer) attended the induction ceremony as Chief Guest, meanwhile Mr. Li Hongtao – Chairman China Shipbuilding Trading Co, Ltd. (CSTC) was also present at the ceremony.
"Technologically advance platform fitted with latest Surface, Subsurface, Anti-air weapons, Combat Management System and Sensors will strengthen PN' combat capability & maintain peace & stability. The CG acknowledged support of Chinese Shipyard & CSTC despite Covid-19," said the official statement issued by Pakistan Navy spokesperson.
It is to be note that The Pakistan Navy ordered four Type 054As, the last two orders were announced on 1 June 2018 and the ships are expected to enter service by 2021.
Type-054A Frigate
The Type 054A (NATO codename Jiangkai II) frigate is a class of Chinese multi-role frigates and is a further improved version of the previous Type 054 frigate, and has improved sensors and weapon systems.
Among its key features is its stealthy hull design that features sloped sides and reduced superstructure for minimising the radar cross-section. Designed primarily for anti-air warfare, the frigates are also equipped to conduct anti-surface and anti-submarine warfare missions.
The Type 054A is armed with HQ-16 medium-range surface-air missiles fired from 32-cell Vertical Launch System (VLS). The HQ-16 missile can engage aerial targets from all angles up to a range of 50 kilometres.
In addition to it, the frigate can carry YJ-83 (C-803) sea-skimming anti-ship cruise missile. The missile is launched by two quadruple launchers mounted at the mid-ship position. The YJ-83 missile can carry a 165 kilograms conventional warhead to an operational range of 250 kilometres.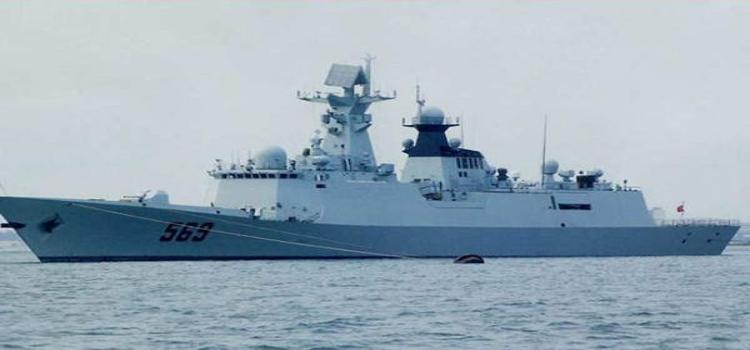 Type-054A vessels are also armed with two indigenous Type 730 seven-barrel 30mm close-in weapon systems (CIWS) for close-point defence against aerial threats. The CIWS can fire 4,600 to 5,800 rounds per minute for a maximum range of 3,000m.
Meanwhile, for anti-submarine operations the vessel has two Type 87 six-tube ASW rocket launchers and tow 324mm YU-7 ASW torpedo launchers. Each rocket has a 34 kilogram warhead and can strike under-water targets within the range of 1,200 metres.
The vessel can also accommodate a single Kamov Ka-28 Helix or a Harbin Z-9C helicopter.