Pakistan offers condolences, support as Turkey ravaged by wildfires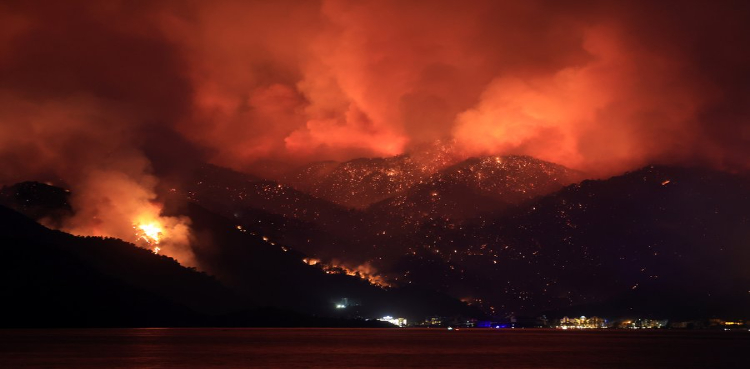 Pakistan has offered condolences over the loss of previous lives as well as property as Turkey battles multiple wildfires.
In a statement, Foreign Minister Shah Mahmood Qureshi has offered condolences and support to Turkey as the country has been ravaged by wildfires.
Pakistan shares our condolences and support to the government of Turkey and to our Turkish brothers and sisters over the loss of lives and property as a result of deadly forest fires, tweeted FM Qureshi.
The development comes as the death toll has reached four casualties, with at least 180 wounded in multiple forest fires across Turkey.
A small number of the forest fires that started on Wednesday and Thursday, mostly in Turkey's south, are still raging on Friday.
Fires erupting one after the other are usual during forest fire season when temperatures are at their highest, but the damage was unprecedented this time, with flames devastating entire villages.
The wildfires were particularly damaging in the vacation resort towns of Antalya and Muğla and quickly spread due to strong winds. Mersin, Adana and Osmaniye, three neighboring provinces in the south, also witnessed massive fires since mid-week.
According to Turkey's Minister of Environment and Urban Planning – Murat Kurum told reporters that some 2,300 buildings were affected by the fire in Manavgat and officials were inspecting buildings for damage control. The minister apprised that 126 buildings were in need of demolition due to the heavy damage they sustained in the fires so far.
More than 4,000 Turkish firefighters had been dispatched across the region to help contain the damage and search for people needing help.
The Russian embassy said Moscow had sent three giant firefighting aircraft to dump fire retardants on the burning forests to contain the flames.
Meanwhile, Turkish President Recep Tayyip Erdogan has said that an investigation had already been launched.