Pakistan on Saturday presented a dossier containing details of India's state-sponsored terrorism being carried out in Pakistan.
"Today we have irrefutable facts that we will present before the nation and international community through this dossier," said the foreign minister in a press briefing alongside Director General Inter-Services Public Relations (ISPR) Major General Babar Iftikhar at the Foreign Office.
The press briefing comes a day after the ISPR said five civilians and a Pakistan Army soldier were martyred in "unprovoked and indiscriminate" shelling by Indian troops from across Line of Control (LoC) in several areas of Azad Jammu and Kashmir (AJK). ISPR said India also suffered "substantial loss" in Pakistan's "befitting reply".
"You can see a pattern of constant ceasefire violations," said Qureshi, adding that the dossier contains many details and some of them will be used at the "time of need".
"The world knows that when Pakistan was busy partnering in the peace process, India was laying a web of terrorism around us," said the country's top diplomat.
"India was allowing its land to be used against Pakistan for terrorism," said the foreign minister. He added that New Delhi not only used its own soil but also made use of neighbouring countries to "attack Pakistan".
India claims itself to be the world's biggest democracy but its actions show it is becoming a rogue state, said Qureshi. "We have information and evidence that India promoting terrorism and has developed a plan to destabilise Pakistan."
The country's top diplomat said that the information was "not new" for him but the "time" had come for Islamabad to take the nation and international community into confidence. "I feel staying silent will no longer benefit Pakistan or regional peace and stability."
'India has three objectives' in Pakistan
FM Qureshi explained that New Delhi has three objectives: derailing Pakistan's journey towards peace, economic and political stability.
"Their first objective is to create hindrance in Pakistan's move towards peace," said the foreign minister. He said India cannot accept that Pakistan has defeated terrorism and is moving towards peace and was promoting "nationalism and sub-nationalism" in Gilgit Baltistan, tribal districts, and Balochistan.
The second objective, said Qureshi, was to ensure Pakistan did not become economically stable. Citing India's stance to push for Pakistan to be blacklisted at the FATF plenary meeting, the foreign minister said India was creating obstacles in our path towards prosperity.
"Their third objective is political instability to destabilise the country."
India uniting terrorist organisations against Pakistan
DG ISPR said India is endeavouring to establish a consortium of Tehreek e Taliban Pakistan (TTP) with proscribed dissident organisations of Balochistan united under the banner of Baloch Raaji Aajoie Sangar (BRAS) constituted in 2018.

The dossier says that an Indian intelligence officer named Colonel Rajesh, employed at the Indian Embassy in Afghanistan, is the master planner and a letter in Dari revealed that he has held four meetings with commanders of terrorist organisations to synergise efforts and upscale terrorist activities in metropolitan cities including Karachi, Lahore and Peshawar in November and December this year.

DG ISPR Iftikhar said the Indian intelligence agencies are also trying to establish Daesh e Pakistan. "Recently, 20 Indian Daesh militants were relocated from India to camps along the Pak-Afgan border. These militants were handed over to Daesh Commander Sheikh Abdul Rahim alias Abdul Rehman Muslim Dost."
Embassies, consulates hub of terror sponsorship
Pakistan said evidence showed Indian embassies and consulates operating along Pakistan's borders have become a hub of terror sponsorship against Pakistan.

The army spokesperson said Indian ambassadors in Afghanistan regularly supervise terrorist activities. He cited an incident where the ambassador and consular in Jalalabad held detailed discussions with collaborators to provide financial support to the TTP and dissident Baloch elements.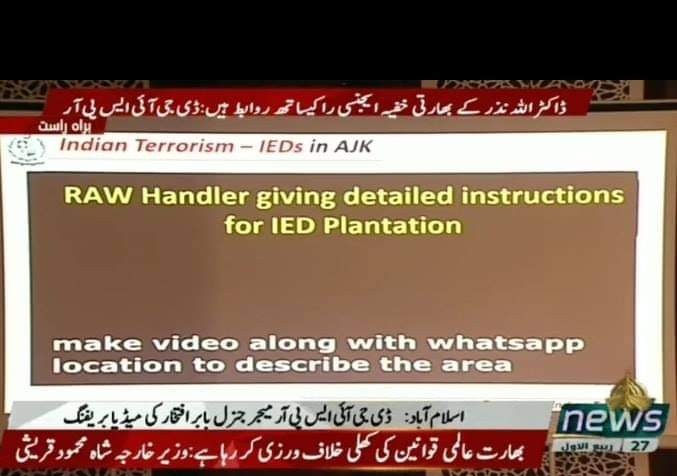 "RAW made two transactions to promote terrorism in Khyber Pakhtunkhwa – both transactions were made through Indian banks. A sum of $28,000 was transferred through Punjab Bank India, and another amount of $55,851 was sent by an Indian national Manmeet via New Delhi to Afghanistan International Bank.
"A letter in Dari reflects that India paid $820,000 to TTP leadership through its collaborators," said the DG ISPR.
Sabotaging CPEC
The army spokesperson said India raised a militia of 700 people to undertake terrorism in Balochistan. "A commission comprising 24 members was created which included 10 RAW operatives. A sum of $60 million was dedicated for this force."
He said Indian Embassy regularly pays handsome amounts to sub-nationalists under the garb of humanitarian assistance work.
MQM-L
"Confessional statements by Sarfraz Merchant and Tariq Mir revealed that Altaf Hussain Group (AHG) used to be funded by RAW through two Indian companies (JVGT and Paras Jewelry)," he said, adding that there was evidence of transactions worth $3.23 million.
He said India has been providing ammunition and weapons to AHG. A confession by Ajmal Pahari validated transfer of weapons 620,000. Pahari also confirmed India established four training camps for AHG militants in Dehradun and Haryana. "Training duration varied from 15 days to four months. It was confirmed that 40 terrorists received training."
Training and provision of weapons
"Besides terrorists funding, India has also been rendering support to various entities through provision of weapons, ammunition and IEDs," said the DG ISPR, adding that there was evidence of RAW providing weapons, ammunition and IEDs to TTP commanders. "RAW agents were found involved in motivating tribals in KP to send fighters to Afghanistan for training."
"A RAW handler delivered IEDs and weapons in the bordering areas of Waziristan during his visit according to the Dari letter."
The army spokesperson said Indian intelligence agencies are managing 87 terrorist camps – 66 out of which are located in Afghanistan and 21 in India. He said a former Indian army general and ambassador visited Baloch militant training camp housing 150 militants in Haji Gak area of Afghanistan.
Recent attacks
DR ISPR said RAW sponsored network of six terrorists was linked to the recent attack on Pakistan Stock Exchange. It was also involved in delivery of suicide jackets to "various terrorists groups operating in Pakistan".
"The network is also involved in target killing of Ulema, Police officials and notables," he said. He added that RAW was paying Rs10 million for suicide attacks and vehicle-borne improvised explosive devices (VBIED), Rs1 million for IED and targeting killings.
"Security forces have also intercepted huge cache of suicide jackets, IEDs, explosives, weapons & ammunition."
Caught in the act: Kulbhushan Jadhav
Indian national Kulbhushan Sudhir Jadhav was born in the city of Sangli in the Indian state of Maharashtra on April 15, 1969, according to a medical report released by the Foreign Office.
However, a fake passport for Jadhav under the pseudonym Hossein Mubarak Patel, showed he was born on Aug 30, 1968.
The cover name, he explained in a confessional video released by Inter-Services Public Relations last year, was taken for "intelligence gathering for Indian agencies".
A resident of Mumbai's suburban Powai neighbourhood, Jadhav belongs to a family of police officers.
In his statement, the Indian national said he is currently a serving officer in the Indian Navy ─ a claim India has denied.
He added that he joined the National Defence Academy in 1987, and then the Indian Navy in 1991, where he served until December 2001.
After the parliament attack, he said he began to 'contribute his services' towards information and intelligence gathering in India.
"I am still a serving officer in the Indian Navy and will be due for retirement by 2022 as a commissioned officer in the Indian Navy," the spy confessed.
He was picked up by Indian spy agency Research and Analysis Wing at the end of 2013, and has been directing various subversive activities in Karachi and Balochistan.
His job, he said, was to hold meetings with Baloch insurgents and collaborate with them to carry out activities "of a criminal nature, leading to the killing or maiming of Pakistani citizens."
Jadhav, in pursuit of targets set by his RAW handlers, was arrested by Pakistani authorities on March 3, 2016, when he attempted to cross over into the country from the Saravan border in Iran.