PM Imran Khan reiterates Pakistan's support for Afghan peace and reconciliation, expresses disappointment over blame game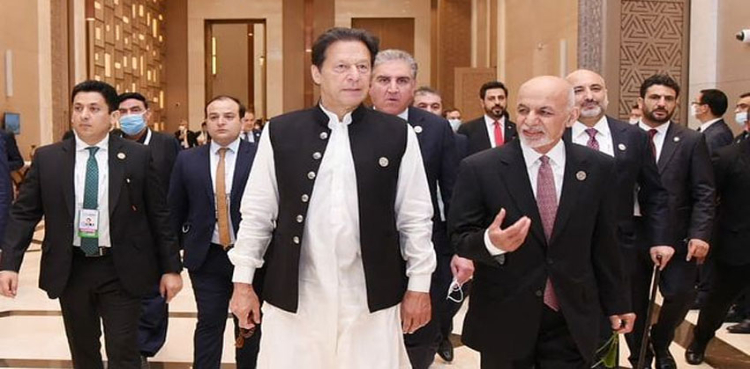 PM Imran Khan has once again reiterated Pakistan's support for peace and reconciliation in Afghanistan, whilst expressing disappointment over blame game and baseless allegations against Pakistan on the matter.
Addressing the International Conference on "South Asia-Central Asia Regional Connectivity-Challenges and Opportunities" in Tashkent, PM Imran Khan said that blaming Pakistan for what is going on in Afghanistan is extremely unfair…peace in Afghanistan is our foremost priority.
Responding to Afghan President Ashraf Ghani's speech at the same event, PM Imran Khan rejected the allegations made by the Afghan premier accusing Pakistan of not supporting peace.
Reaffirming Pakistan's commitment to Afghan peace, PM Imran Khan Pakistan would continue to support reconciliation in Afghanistan and urged the Afghan stakeholders and the international community to gear up efforts for a politically negotiated settlement.
Mr Ghani, I want to make it clear to you that Pakistan will be the last country to think about supporting turmoil and unrest in Afghanistan," said PM Imran Khan.
Pakistan's foremost priority is the stability in Afghanistan as it directly affects us. He said Pakistan will continue to support all initiatives for peace and reconciliation in Afghanistan… we encourage all the neighbours and international stakeholders for their positive roles for a political settlement in Afghanistan, he added.
Highlighting Pakistan's own sacrifices, the premier accentuated that the country has lost more than 70,000 as a direct result of instability in Afghanistan.
Three million Afghan refugees have been living in Pakistan for decades, we do not have capacity and economic strength to get more inflow of Afghan refugees, noted the prime minister.