President Arif Alvi visits ISI Headquarters, briefed on national security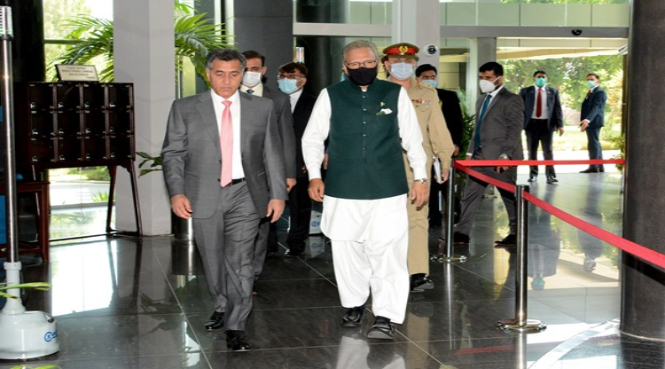 President Arif Alvi visited Inter-Services Intelligence (ISI) Headquarters and was briefed on matters pertaining to national security on Thursday (today).
Upon arrival, President Arif Alvi was received by DG ISI Lieutenant General Faiz Hamid who briefed the president on national security matters.
President Arif Alvi was also informed on cybersecurity – a subject in which the premier has keen interest in.
The President lauded the efforts made by ISI for national security and expressed satisfaction over the organization's professional preparedness.
Prior to this, PM Imran Khan had visited ISI Headquarters on June 23rd last month. The premier's visit included a 'comprehensive' briefing on security situation and a meeting of recently established National Intelligence Coordination Committee (NICC) chaired by PM Imran Khan.
The meeting was also attended by Interior Minister Sheikh Rashid Ahmed, Minister for Information and Broadcasting Fawad Chaudhary and the Heads of Services' Intelligence Agencies, Intelligence Bureau and Federal Investigation Agency.
The participants also mulled over further enhancing intelligence sharing and coordination between various intuitions.