Punjab government has prohibited filming of movies, dramas at mosques and shrines across the province.
As per the notification issue by Punjab Auqaf and Religious Affairs Department on August 13th, shooting of films and dramas at mosques and shrines is strictly prohibited and legal action will be taken in case of any violations.
The notification specifically mentions the ban on filming any movie, drama scene at any of the shrines and mosques under the jurisdiction of Punjab Auqaf administration.
In case of any violations relevant manager and zonal administrator will be held responsible, said the notification.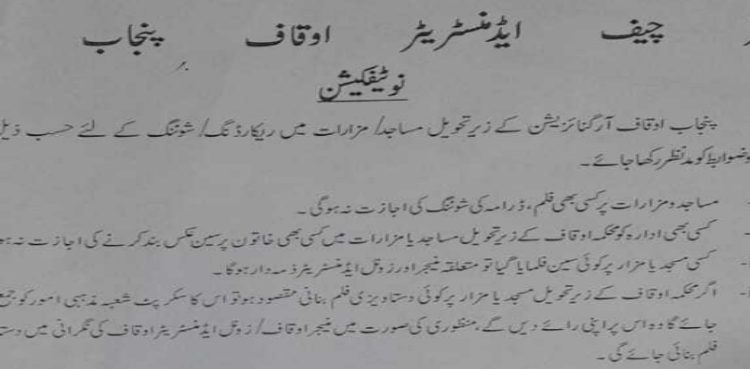 There are around 544 shrines and 437 mosques that fall under the jurisdiction of provincial auqaf administration.
Furthermore, in case of any documentary film, the script will be needed to be sent to Religious Affairs department for approval, whereas the filming will be carried out under personal supervision of relevant manager auqaf or zonal administrator.
The development comes after public uproar over Wazir Khan mosque scandal that involved the filming of a dance sequence starring singer Bilal Saeed and actress Saba Qamar.
An FIR was lodged at Akbari Police Station by advocate Farhat Manzoor against Bilal Saeed and Saba Qamar, accusing them of hurting religious sentiments and violating the sanctity of the mosque by behaving in a desecrating manner.