Wounded humanity: rape violence in IIOJK remains unaddressed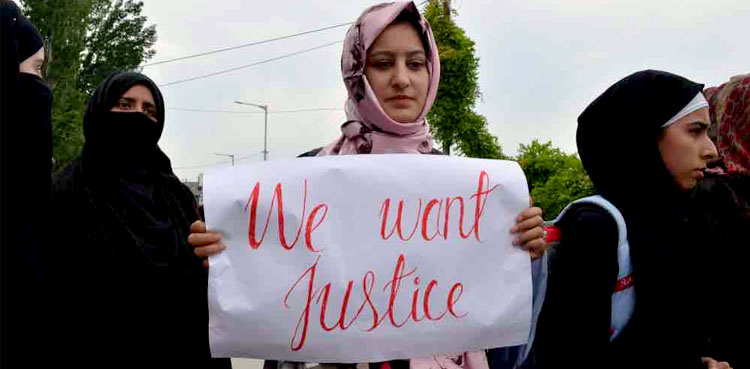 On the night of February 23, 1991, personnel of the 4 Rajputana Rifles of the Indian Army cordoned off the two villages Kunan and Poshpora in north Kashmir's Kupwara district during an anti-insurgency operation and allegedly gang-raped what villagers claimed was 100 women, one as old as 80 years old.
Four years after Mushtaq had asked the question, it transpired into a book on the infamous 'mass gangrapes', co-authored by five Kashmiri women activists, all in their mid-twenties – Mushtaq, Batool, Ifrah Butt, Munaza Rashid and Natasha Rather.
A book titled "Do you remember Kunan Poshpora?"  An eight-volume series on "Sexual Violence and Impunity in South Asia" was released in 2016 chronicling the plight of helpless women of Kashmir.
This was the day where "mass sexual violence" was suffered by women of the occupied valley at the hands of the Indian Army.
The survivors' accounts presented in the book recreate the gory episode with chilling details. For instance, a survivor tells the authors, "Three army men caught hold of me and 8-10 army men raped me in turns. They had huge battery torches with them and they used them to see my naked body while making lewd remarks."
Wajahat Habibullah, the then divisional commissioner of Kashmir, who had conducted an inquiry into and raised doubts about the accusations, alleged in 2013 that the government had "deleted important portions of his confidential report" on the case in which he had recommended a high-level police probe.
In conflict zones worldwide sexual violence has become a tactic of choice – it's cheaper, more destructive, and easier to get away with than other methods of warfare.
Saira Bano, a resident of Bijbehara 40 km South of Kashmir, is a case in point. Bano was tragically raped by a group of soldiers in her village only six days after her marriage. After the incident, her husband refused to accept her back in their home at first. A year later after Saira returned home she claimed to being treated poorly by her husband and beaten often.
"Women in Kashmir do not report rape due to the fear of reprisals," says Khurram Pervez, Coordinator of the Jammu and Kashmir Coalition of Civil Services, an independent rights group operating in JK. "They lack faith in the existing institutions of justice and due to the social stigma," he added.
One of the most infamous Kashmir cases of violence against women under conflict situations, documented by UNHCR RefWorld through Asia Watch, included excerpts from the 1991 report, "Kashmir Under Seige." The report outlines the extreme conditions of hardship and corruption that occurred from the beginning of 1990 in crimes against humanity that included 200 documented cases of extrajudicial executions of civilians and militants by suspected paramilitary in the region.
The Shopian rape and murder case is the abduction, rape, and murder of two young women allegedly by the Indian army. in mysterious circumstances between 29 and 30 May 2009 at Bongam, Shopian district in the Indian occupied State of Jammu and Kashmir.
Two women who were sisters-in-law went missing from their orchard on the way home on 29 May 2009. The next day, their bodies were found both one kilometer apart. Local police rejected the allegations saying that the women appeared to have drowned in a stream.
Neelofar Jan, aged 22, and Aasiya Jan, aged 17 were sisters-in-law and resided in Bongam, Shopian. Neelofar Jan was married to Shakeel Ahmed Ahangar and the couple had a two-year-old son. Aasiya Jan was the daughter of Abdul Gani Ahangar. She had secured a distinction in her matriculation exams in the year preceding her death.
Asifa Bano
On 23 January, six days after Asifa's body was found, the Jammu and Kashmir chief minister, Mehbooba Mufti, ordered an investigation by the crime branch, a special unit of the state police.
According to the investigators, Asifa was confined in a local temple for several days and given sedatives that kept her unconscious. The charge sheet alleges that she was "raped for days, tortured and then finally murdered". She was strangled to death and then hit on the head twice with a stone.
Sanji Ram, a 60-year-old retired government officer, allegedly planned the crime with the help of police officers Surender Verma, Anand Dutta, Tilak Raj, and Mr Khajuria.
On the morning of 17 January, Muhammad Yusuf Pujwala was sitting outside his home when one of his neighbours came running towards him. He stopped in front of Mr Pujwala and broke the news: they had found his eight-year-old daughter, Asifa Bano. Her body lay in bushes in the forest, a few hundred meters away.
Mr Pujwala belongs to a community of Muslim nomadic shepherds called Gujjars who crisscross the Himalayas with their goats and buffaloes.
The crime has shocked the community, exposing the fault lines between Hindu-majority Jammu and the Muslim-majority Kashmir valley in a sharply divided state. The Kashmir valley has a tumultuous relationship with India – there has been an armed revolt in the region against Indian rule since 1989.
Police have arrested eight men, including a retired government official, four police officers and a juvenile in connection with Asifa's death.
Two days later, on 12 January, the family filed a police complaint. But, according to Mr Pujwala, the police were not helpful. One of the police officers, he alleges, said Asifa must have "eloped" with a boy.
As news of the crime news spread, Gujjar staged protests and blocked a highway, forcing police to assign two officers for the search. One of those who was assigned, Deepak Khajuria, was himself arrested in connection with the crime.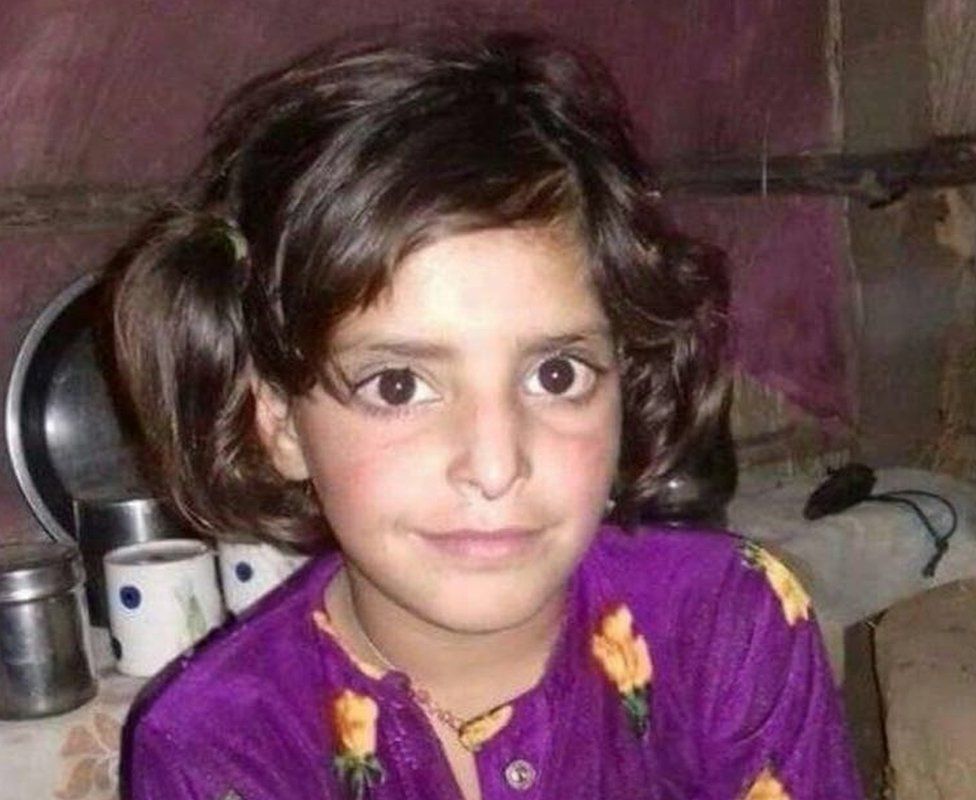 Five days later, Asifa's body was found.
"She had been tortured. Her legs were broken," recalled Ms Naseema the mother of the minor, who had rushed to the forest along with her husband to see the body. "Her nails had turned black and there were blue and red marks on her arm and fingers."
Mr Ram's son, Vishal, his nephew, a juvenile, and his friend, Parvesh Kumar, are also accused of rape and murder.
Investigators allege that Mr Khajuria and the other police officers – some of whom lodged the complaint and accompanied the family in the search – washed Asifa's bloodied and mud-spattered clothes before sending them to a forensic lab.
They believe that the accused men wished to terrorise the Gujjar community into leaving Jammu. The shepherds use public and forest land in Jammu for grazing, which has recently brought them into conflict with some Hindu residents in the region.
"It was about land," said Talib Hussain, a tribal rights activist and lawyer. Mr Hussain, who led a protest in support of Asifa's family, alleges he was arrested and threatened by local police.
Ankur Sharma, one of the lawyers who protested on behalf of the accused, alleged that the Muslim nomads were trying to alter the demographics of Jammu, where Hindus are currently the majority. "They are encroaching our forests and water resources."
The Gujjars wanted to bury Asifa in a graveyard where they had purchased some land a few years ago and had already buried five people but when they arrived there, Mr Pujwala said, they were surrounded by Hindu right-wing activists who threatened them with violence if they were to continue with the burial.
"We had to walk seven miles to bury her in another village," Mr Pujwala said.