Faiz Ahmad Faiz (February 13th, 1911 – 20 November 1984) born in Sialkot (Punjab), Pakistan was a Pakistani Muslim Marxist, poet, and author in Urdu.
He is one of the most celebrated writers of the Urdu language in the world. Outside literature, he has been described as "a man of wide experience" having served as a teacher, an army officer, a journalist, a trade unionist, and a broadcaster.
Faiz started memorizing the Holy Quran at the age of four and in 1916 started his formal education in the famous school of Moulvi Ibrahim, and learned Urdu, Persian and Arabic.
He was admitted to the Scotch Mission High School in 1921 in Class IV. Passed his Matriculation Examination in the 1st division from Murray College, Sialkot, during this period he further improved on his Persian and Arabic learning from Allama Iqbal's teacher, Syed Meer Hasan.
He passed his B.A. (Honours) in Arabic from the Government College, Lahore, and then M.A. in English from the same College in 1932, he also passed his M.A. in Arabic in 1st Division, from Oriental College, Lahore.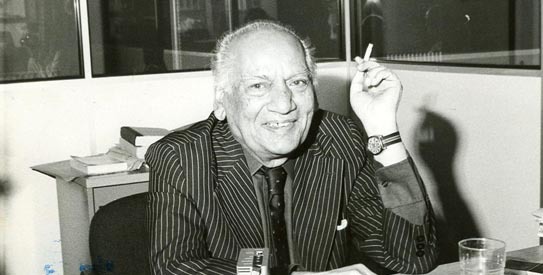 He served as a lecturer in English at M. A. O. College, Amritsar in 1935 and then at Hailey College of Commerce, Lahore.
Joined the Army as Captain in 1942 and worked in the Department of Public Relations in Delhi later being promoted to the rank of Major in 1943, and Lieutenent Colonel in 1944.
He resigned from the Army in 1947 and returned to Lahore, where, in 1959 he was appointed as Secretary Pakistan Arts Council and worked in that capacity till 1962.
Returning from London in 1964 he settled down in Karachi and was appointed Principal, Abdullah Haroon College, Karachi.
He further served as the editor of the monthly magazine Adabe-Latif from 1947 to 1958. He also worked as Editor under the Progressive Papers Ltd, of the Pakistan Times, the Urdu newspaper Imroze and the weekly Lailo-Nihar.
In the 1965 war between India & Pakistan, he worked in an honorary capacity in the Department of Information. Furthermore, he served as Editor of the magazine Lotus in Moscow, London, and Beirut.
Although living a simple and restless life, Faiz's work, political ideology, and poetry became immortal, and he has often been called the "greatest poet" of Pakistan.
Faiz remained an extremely popular and influential figure in the literary development of Pakistan's arts, literature, and drama, and theatre adaptation. In 1962, Faiz was awarded the Lenin Peace Prize which enhanced the relations of his country with the Soviet Union which at that time had been hostile and antagonistic relations with Pakistan.
The Lenin Peace Prize was a Soviet equivalent of the Nobel Peace Prize and helped lift Faiz's image even higher in the international community. It also brought the Soviet Union and Pakistan much closer, offering possibilities for bettering the lives of their people. Most of his work has been translated into the Russian language.
Faiz, whose work is considered the backbone of the development of Pakistan's literature, arts, and poetry, was one of the most beloved poets in the country. Along with Allama Iqbal, Faiz is often known as the "Poet of the East".