Indo Pakistan war of 1965 made some of the world greatest tales of valour and Squadron Leader Sarfaraz Ahmed Rafiqui is one of them.
Pakistan is observing the 85th birth Anniversary of 1965's Indo-Pak war veteran Squadron Leader Sarfaraz Ahmed Rafiqui today.
He was born in Rajshahi, former East Pakistan, on 18 July 1935. He obtained his early education from St. Anthony's High School, Lahore and matriculating from Government High School, Multan in 1948.
Sarfaraz Ahmed Rafiqui joined Royal Pakistan Air Force with 13 GD (P) course and graduated in 1953 from RPAF College Risalpur. He won the Best Pilot Trophy in his course.
In 1962, Sarfaraz was appointed Officer Commanding of 14 Squadron in Dhaka. After a year there, he was transferred to 5 Squadron as OC, which he commanded during the war of 65.
Squadron Leader Sarfaraz Ahmad Rafiqui led a formation of three F-86 aircraft on a strike against Halwara airfield, On 6 September 1965.
The formation was intercepted by Indian Air Force Hunter aircraft. During the dog fight, guns of Sarfaraz Rafiqui's aircraft jammed. However, Sarfaraz Rafiqui refused to leave the battle area and ordered Flight Lieutenant Cecil Chaudhry to take over as leader and continue the engagement.
In the meantime, he tried to give the formation as much protection as was possible with an unarmed aircraft. This act of great valour made Sarfaraz Rafique immortal.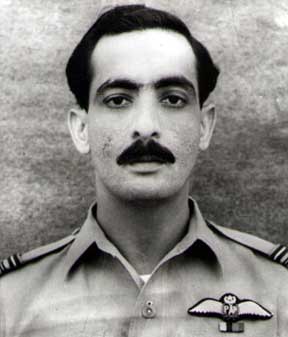 It was the spirit of solidarity, that very brave gesture to stay with the team, which is remembered to this day.
As a Squadron Commander, his act demonstrably inspired other Squadron Commanders and pilots to lead fearlessly.
His selfless devotion to duty was acknowledged by the award of a Sitara-e-Jurat as well as a Hilal-e-Jurat.
PAF Base, in Shorkot cantt, named after him rekindles the spirit of Sarfaraz Rafiqui chivalry.