Single-dose Convidecia COVID-19 vaccine arrives in Pakistan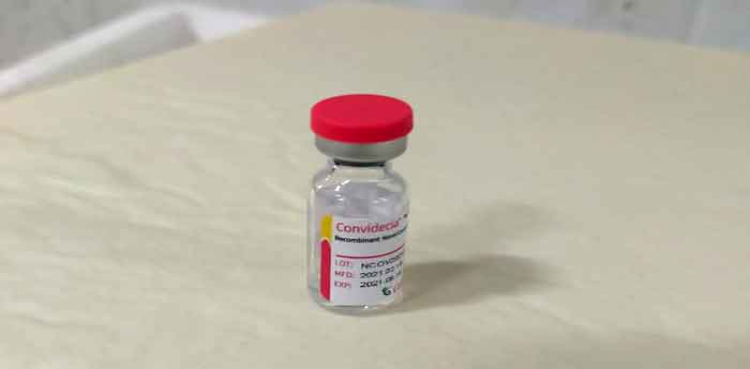 Pakistan has received its first shipment of 60,000 single-dose Convidecia COVID-19 vaccine.
The single-dose Convidecia COVID-19 vaccine has been manufactured by China's CanSino Biologics and arrived in Islamabad via a commercial flight on Tuesday night.
National Health Services, Regulations and Coordination (NHSR&C) has confirmed receiving 60,000 doses of single-dose Convidecia COVID-19 vaccine.
The vaccine is being shifted to the federal storage and its distribution to provinces and other federating units would commence from Wednesday, said an NHSR&C official.
The single-dose Convidecia COVID-19 vaccine will be only administered only to people over 80 years of age as per instructions from the National Command and Operation Center (NCOC) via separate Adult Vaccination Centers (AVCs).
Meanwhile, registration has been made compulsory at the newly established AVCs.
NCOC has also prohibited any sort of inoculation other than that via National Immunization Management System (NIMS).
It is pertinent to know that Pakistan launched its first COVID-19 vaccination programme on February 3rd after receiving 500,000 COVID-19 vaccine doses from China's Sinopharm on February 1st.
The COVID-19 vaccination drive was launched simultaneously in federal capital along with provincial capitals namely Islamabad, Karachi, Lahore, Quetta and Peshawar.
Meanwhile the second phase of COVID-19 vaccination was launched on March 10th. The second phase of COVID-19 inoculation will focus on people who are aged 60 or above, as they're more vulnerable to the novel virus.
According to Ministry of National Health Services, people above the age of 60 can get themselves registered via sending a text message at 1166 or can visit (NIMS) website.