Smells like team spirit -World Press Freedom Day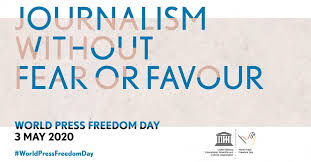 Journalism can easily be classified as a genre of life.
Recently, someone on social media said exactly the thing to explain this even better:
People associated with the profession have a different clock, a way of interpreting information different than other people, their own humor, their families mostly miss them and their office colleagues do not and flock certain tea shops and downtown restaurants as a fad.
Today on World Press Freedom Day, international organizations and stalwarts of journalism observe May 3 as the day to celebrate the fundamental rights of people's right to know and journalist right to work with freedom of speech. The day is mainly evaluates the press freedom across the societies and pay tribute to the journalists who laid their lives in the line of duty.
The third of May was declared by the United Nations General Assembly to raise awareness about the freedom of press, remind government of their responsibility to support freedom of speech and mark the anniversary of Windhoek Declaration, which was the African journalists' effort of putting together principles of free press in 1991.
Journalism is the bedrock of democracy. Yet, across the world, journalists are the most high risk professionals in developed and under developed countries alike. The kind of risks faced by people associated with journalism varies over abductions, firing attacks, and imprisonment apart from deaths in cold-blood.
According to the CPJ (Committee to Protect Journalists- an advocacy group for media personnel), 6 journalists have been killed during 2020 so far in Somalia, Paraguay, Iraq, and Syria in various incidents of attacks.
According to The Washington Post, at least 25 journalists in 13 countries were killed in 2019 out of which 10 were targeted and murdered. In 2018, the publication quoting CPJ reported, "At least 43 journalists killed for their work in 2018."
The WP in a previous reports said more than 600 people associated with media were killed in the line of duty in various incidents of assault and murder over the last decade. These not only included journalists but also their drivers, interpreters, etc. Many deaths occurred due to suicide bombs, gunshots and some were even targeted on live TV.
The picture, however, continues to grow bleak as the involvement of the world's largest democracy, the United States, remains a blot on its advocacy of freedom of speech. The US is also associated with the arrest of WikiLeaks founder Julian Assange since 2019 after he was indicted with conspiring to access information from Pentagon Network in 2010, defying his right for political shelter in Equador with its diplomatic influence.
Many consider Assange a hero for the public's right to know and a defender of press freedom.
The US President Donald Trump can be witnessed condemning the US national media through his frequent sarcastic tweets which are usually triggered by the media's for its attempts in reporting his questionable policies and decision.
In a new wave of anger on April 27th, Trump called media 'The Enemy of the People' as a defense against his COVID-19 policy measures on a day in which more than 1,000 Americans died from the coronavirus.
The President however, has not taken to twitter to leave a message on the World Press Freedom day so far which is not a surprise anymore.
The US State Secretary Mike Pompeo, however, took to twitter to thank the journalists for working in tough situations to keep the flow of information going.
2018 saw the 'brutal' murder of Jamal Khashoggi, who was killed in the tricked safety of the Saudi Consulate in Istanbul. The Turkish authorities admitted the job was carried out "inside the consulate by a "murder squad" dispatched from the kingdom.
International agencies have expressed their commitment to the cause of press freedom. European Commission said in a tweet that there is no democracy without a free press.
United Nations in their twitter message paid tribute to medical workers and journalists as frontliners in the times of COVID-19 pandemic.
Former Pakistani Senator and human right advocate Farhatullah Babar wished good times or Pakistani press and sent his thoughts to journalists who faced atrocities during their job.