Abida Parveen born on 20 February 1954, a Pakistani Sufi Muslim singer, composer, musician, painter, and entrepreneur. Her singing and music have earned her many accolades, and she has been dubbed as the 'Queen of Sufi music'.
Born and raised in Larkana into a Sindhi Sufi family, she was trained by her father Ustad Ghulam Haider (not to be confused with composer Master Ghulam Haider) who was a famous Singer and Music teacher. She plays the Pump organ, Keyboard and Sitar. Parveen started performing in the early 1970s and came into global prominence in the 1990s. Since 1993, Parveen has toured globally. She has also performed in Churches several times. Parveen features in Pakistan's popular musical show Coke Studio and was a judge on the Pan-South Asia contest show SurKshetra alongside Runa Laila and Asha Bhosle hosted by Ayesha Takia. She had appeared in various Indian and Pakistani Music reality shows including Pakistan Idol, Chhote Ustaad, and STAR Voice of India. She is among The 500 Most Influential Muslims of the world with the power to induce hysteria in her audience, Parveen is a "Global Mystic Sufi Ambassador".
Parveen is referred to as one of the world's greatest mystic singers. She sings mainly ghazals, Thumri, Khyal, Qawwali, Raga (raag), Sufi rock, Classical, Semi-classical music, and her forte, Kafis, a solo genre accompanied by percussion and harmonium, using a repertoire of songs by Sufi poets. Parveen sings in Urdu, Sindhi, Saraiki, Punjabi, Arabic, and Persian. She was designated a 'Peace Ambassador' by SAARC.
Pakistan's second-highest civilian award the Hilal-e-Imtiaz has been bestowed upon Abida Parveen by the President of Pakistan in 2012.
Parveen always remembers that she was never forced towards this occupation and she sang her first complete kalam when she was only 3 years old. Parveen had already begun performing at Dargahs and Urs in the early 1970s, but it was in 1973, on Radio Pakistan, that she achieved her first real breakthrough with the Sindhi song Tuhinje zulfan jay band kamand widha. In 1977 she was introduced as an official singer on Radio Pakistan. Since then, Parveen has risen to prominence and is now considered one of the finest vocal artists of Pakistan. She has imbued Sufi music with a new identity, marking the beginning of this journey at Sultana Siddiqui's Awaz-o-Andaz in 1980.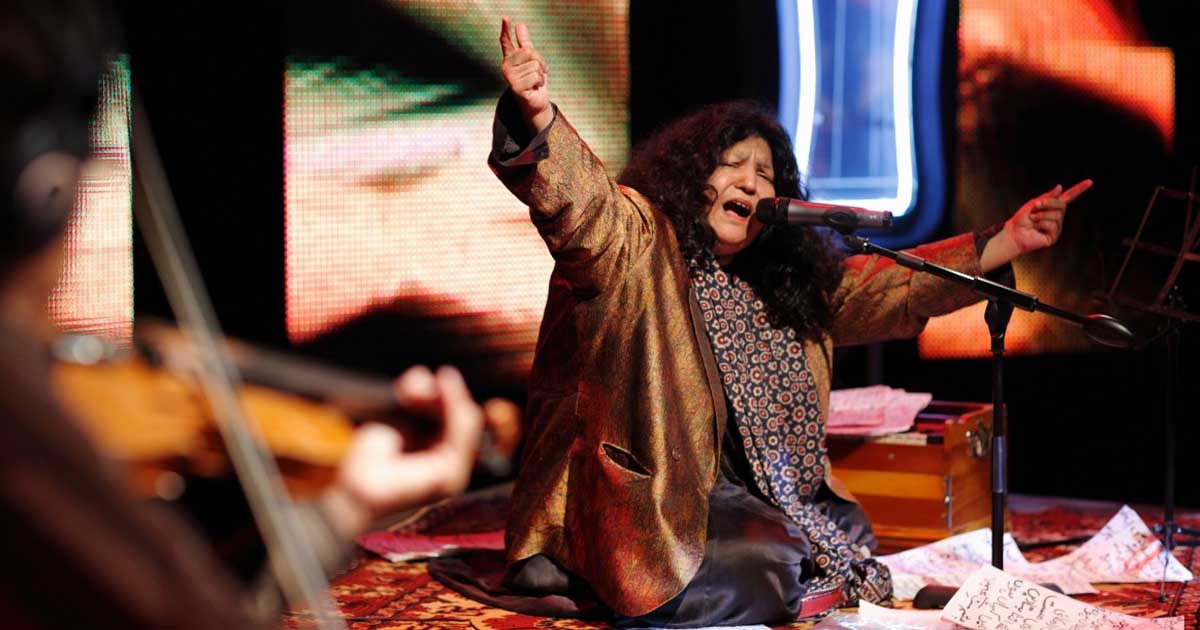 Parveen travels internationally, often performing at sold-out venues. Her 1988 performance in Chicago was recorded by the Hazrat Amir Khusrau Society of Art and Culture, which issued an LP of her songs. Her 1989 performance in London's Wembley Conference Centre was broadcast on the BBC. Parveen cites her motivation for international travel as being to spread Sufism, peace, and the divine message. In doing so, she also promotes Pakistani culture.
Abida got her master's degree from Sindh and also learned Urdu, Sindhi and Persian specifically.
In 1975, Abida married Ghulam Hussain Sheikh, senior producer at Radio Pakistan, who had retired from his job in the 1980s to manage and mentor Parveen's career. After he died of a heart attack on an international flight in the early 2000s, their daughter Maryam, one of her three children, took up that role.
Parveen has a distinctive clothing style which she has created herself for ease and comfort. She wears long simple frocks buttoned up to the top covered with a coat. She is always accompanied by an ajrak, a sindhi duppatta, which she claims comes from the dargah (mausoleum) of Sufi saint Shah Abdul Latif Bhittai, her wardrobe remains full of such traditional clothing.
She has been quoted numerous times throughout her career on the Sufi lifestyle she adheres to and its connection to music and the land:
"Pakistan seems disconnected from the outside. But it is built and running on prayers of our Sufi kings, our pirs. Poor people, rich people – we are all God's servants … I'm lucky. My audience is my God."
"My culture – our culture – is rich in spirituality and love."
"The songs purify the soul of a human being, the human is so involved that he has left God. The songs bring us near to God, near the Almighty, so that the human soul should be purified and satisfied."