The Inter-Services Public Relations (ISPR) said on Monday, a civilian was injured due to the unprovoked firing by Indian troops in Khuriatta sector along the Line of Control.
"Indian Army troops resorted to unprovoked ceasefire violation in Khuiratta Sector along #LOC. Due to indiscriminate fire of automatics at a house in Jijot village, an innocent citizen sustained serious injuries."
In a statement on Twitter, he added that the injured civilian had been shifted to a nearby health facility for necessary medical treatment.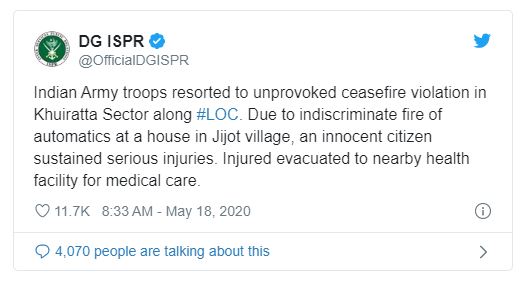 Meanwhile, the Foreign Office of Pakistan summoned a senior Indian diplomat to register strong protest against the ceasefire violations by the Indian occupation forcesalong the Line of Control (LoC) in Khuiratta Sector. Owing to indiscriminate and unprovoked firing by the Indian occupation forces, Muhammad Shafi, 37, resident of Jijot village, sustained serious injuries.
Condemning the deplorable targeting of innocent civilians by the Indian occupation forces, it was underscored that such senseless acts are in clear violation of the 2003 Ceasefire Understanding and are also against all established humanitarian norms and professional military conduct.