Wall of Controversy: 'Dhoop Ki Deewar'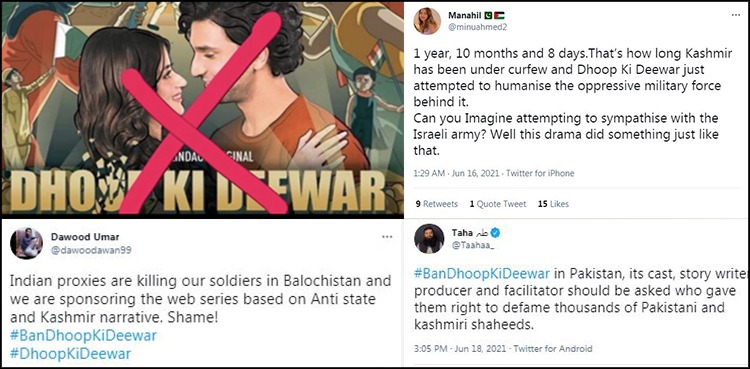 The recent airing of a controversial trailer on India's 'ZEE5' OTT (Over The Top) platform titled "Dhoop Ki Deewar" has Netizens up in arms over the contents of what is being touted as a production of the Pakistani Military's public relations wing.
It has been claimed that the production and distribution juggernaut 'Group M' which has its regional head office in neighboring India has payed actors, writers and directors of Pakistan exorbitant sums to produce content exclusively for Indian owned entities like ZEE5 and Zee Zindagi and are hence in complete control of what the contents of their projects could and should be.
Many who have watched the trailer for the OTT platform's latest offering have found it to be against Pakistan's Ideological foundations, some even questioning the romantic relationship shown between the two protagonists where the male lead happens to be the son of an Indian Army personnel while the female the daughter of a Pakistani soldier.
ZEE5's first production venture involving Pakistani's was also marred with controversy, a series titled 'Churails' was banned along with the ZEE5 by Pakistan's media regulatory body PEMRA for its bold subject matter and questionable depiction of its female leads.
FACT CHECK: NO, Dhoop Ki Deewar Is Not ISPR's Project!
Dubious statements by some associated with the mega-budget production have made common Pakistani's associate the project with public relations efforts of the Inter-Services Public Relations (ISPR) office.
The male protagonist's association with the latest ISPR production 'Ehd-e-Wafa' also added to the speculation.
There has not been a formal statement on the matter from the military quarters but sources close to the establishment have disclosed that all such conjecture was superfluous and wrongly associated and may even be an attempt to malign and sabotage the good work being done by the ISPR for positive image building of the country and highlighting the selfless efforts of our troops.
Public Uproar In Pakistan
Netizens have showcased their rage and anger over the storyline terming it as a 'part of India's ongoing fifth generation war' against Pakistan aimed at promoting its own fabricated narrative as part of its subversion tactics throughout history.
ZEE5's move is a response to PEMRA's strict actions against illegal DTHs across Pakistan. Such nefarious designs are aimed at undermining Pakistani DTH and entertainment industry via luring Pakistani artists and industry veterans via lucrative offers.