273 Pakistanis return from Thailand still in limbo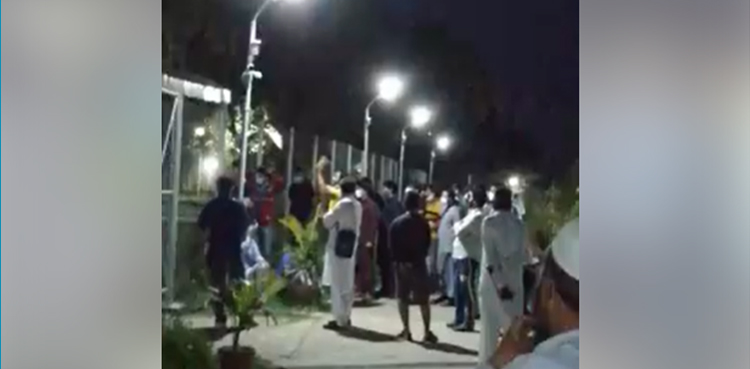 Around 200 passengers brought back from Thailand on April 14 to Islamabad are still in limbo regarding their COVID-19 testing and accommodation during necessary quarantine after arrival from a foreign destination.
Pakistan International Airlines flight PK-8893 arrived in Islamabad at 10:30 pm on April 14 bringing back 273 Pakistani who were stranded in Thailand after unprecedented lockdowns were imposed across the world due to the growing COVID-19 pandemic situation.
The passengers made an SOS call through a video that went viral on social media on Thursday in which a man could be seen yelling angrily at authorities to sort out the situation with a large group of people standing behind a metal barrier. He was pointing out to mismanagement regarding the passenger's testing and accommodation facilities during their quarantine upon return.
According to Azaz Tariq Butt, a passenger on the same flight, the travel cost them three times more than the usual cost of traveling from Thailand to Pakistan in the name of safety protocols which were totally absent during the flight. Passengers were seated next to each other as against the Civil Aviation Authority's advisory issued back in March, which clearly said a seat's distance will be maintained and passengers will be provided safety equipment like masks and sanitizers. Azaz said the flight carried families, a production crew of 22 persons, members of Tableeghi Jamaat and businessmen.
He disclosed that despite the news that people brought back from other countries will be duly tested for COVID-19 immediately upon arrival and facilitated for quarantine by the government, passengers were transported to some 7 designated hotels where they were told to pay for their stay and food.
"The room rent is around Rs3500 and food charges Rs1500 per head at these hotels. We have already paid thrice the cost of travel in the name of safety protocols and now we are expected to pay for our stay here for at least 7 days. For a family of three or four persons, it is a heavy price. Instead, people should be tested and allowed to return to their homes. But they are being forced to stay in uncertain and threatening conditions here violating social distancing rules and exposed to infection," said an anxious Azaz.
He said that authorities are now saying that the SOP has changed. The test will be conducted after two or three days and until the results are returned, passengers will have to be accommodated under the current arrangement.
The 22-person crew of Ishrat Baji is stranded at the Ramada Hotel Islamabad. Filmmaker Shamoon Abbasi who was also part of the crew has been expressing his anguish at the mismanagement of the entire job through a series of tweets since April 15.
His tweets confirm the banes of other passengers as narrated by Azaz.
In another tweet, he said that they were forced to pay for their hotel stay.
Shamoon also confirmed that testing is being delayed unprecedentedly.
The scribe tried to reach a senior authority of the aviation division in Islamabad who did not receive the call texting he will 'call back later'.