Chief of Army Staff (COAS) General Qamar Javed Bajwa on Saturday, attended passing out parade at Pakistan Military Academy (PMA) at Kakul and reiterated army's commitment for the supremacy of constitution.
Addressing Passing out parade of 142nd PMA Long Course, 32nd Technical Graduate Course, 61st Integrated Course, 16th Lady Cadet Course and 1st Basic Military Training Courseheld at Pakistan Military Academy (PMA) Kakul, Abbottabad on Saturday, Army Chief stressing upon the supremacy of constitution stating that the military is subordinate to the constitutional provisions and guidelines.
"We continue to support the Government, when ever asked to, as per the law and guidelines of the constitution," he noted.
Army Chief highlighted the sacrifices and the significant role played by the army in tackling terrorism and other challenges faced by the country such as the prevalent COVID-19 outbreak.
"We are in a situation which is termed by our enemy as 'No Peace, no War'. In-fact we have snatched the peace from the jaws of war and we will protect it with our lives," he said.
Furthermore, COAS underscored the significance of 'hybrid war' targeting the youth of the country.
The objective of hybrid war is to target the sense of hope in Pakistan and to perpetuate the perception of "Yahan Kuch Acha Nahi ho Sakta". Let me tell you, "Yahan Sub Acha Hoga". We Pakistanis always find a way, and that we will "InshaAllah", General Bajwa noted.
The enemies who plotted our doom and destruction are watching us with disdain. Having failed and feeling frustrated, they have now subjected us to a 24/7 hybrid war. This war is not fought in the battle fields but in the minds. In previous wars, soldiers were taking the brunt on the frontline; in this new war, however, leadership at all levels is the target, the statement added.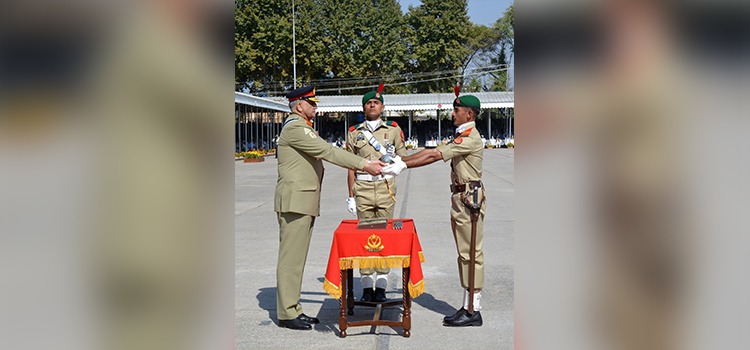 While, expressing his views on the air skirmish between India and Pakistan last year, COAS said that Pakistan successfully tackled Indian aggression despite the enemy being five times in size.
COAS reviewed the parade and gave awards to distinguished cadets. The passing out parade also included cadets from various countries including Palestine, Maldives, Qatar and Sri Lanka.
The coveted Sword of Honour was awarded to Academy Senior Under Officer Muhammad Faateh of 142nd PMA Long Course, whereas the President's Gold Medal to Battalion Senior Under Officer Junaid Khan of 142nd PMA Long Course.