Fact Check: India spewing venom, fueling false propaganda regarding 'fictitious' civil military clash in Pakistan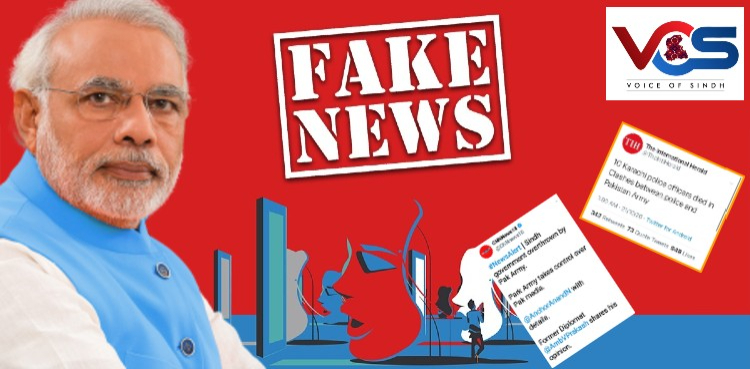 India, in its efforts against Pakistan is spewing venom fueling false propaganda regarding 'fictitious' civil-military clash in Pakistan.
Several 'sponsored' social media accounts, backed by 'puppet' Indian news media outlets have initiated an orchestrated propaganda campaign aimed at maligning Pakistan Army and promoting false narrative regarding civil-military clash in Pakistan.
Social media accounts using stirring language and terminologies such as 'civil-war' is in-fact the notorious 5th generation warfare being exercised by Indian forces against Pakistan.
The Indian narrative is exploiting Pakistan's internal issues to propagate a certain narrative to discredit Pakistan and Pakistan Army.
India has nefariously mixed the recent Karachi police fiasco surrounding the arrest of a senior PML-N member with today's gas explosion blast at a residential complex in Karachi's Maskan Chowrangi area; brazenly claiming of clashes between Pakistan Army and Sindh Police.
A twitter account titled 'Ad, Ajay P. Singh' – an Indian advocate, claimed ten Sindh Police officials being killed by Pakistan Army.
'Civil War breaks out in Pakistan,' he brazenly tweeted.
Prashant Patel Umrao – another advocate of Supreme Court of India, went a step further to claim 22 policemen being killed in 'clashes with Pakistan Army'.
Meanwhile, headlines at CNNNews18 read 'cops and army clash'.
Heavy fire between Pak Army and Sindh Police in Karachi after Pak Army tried to take custody of a Superintendent of Sindh Police Mohammad Aftab Anwar, 5 Pak Army officers died in Firing – claimed 'The International Herald'.
"3 dead, 15 injured in Karachi blast as 'civil war' like situation emerges in Pakistan," read the headlines at Zee News English – a major Indian news media outlet.
What's what – Separating truth from propaganda
Indian media has nefariously mixed up the two incidents that happened in Karachi within a span of two days; distorting truth, using terminologies such as 'civil-war' which is nothing more than the sub-standard attempt at maligning Pakistan and Pakistani armed forces via blatant propaganda that Indian media is known for.
The Sindh Police 'episode'
The first one being the arrest of a senior PML-N leader and the fiasco that followed and submission of leave application by various senior police officials, due to plain misunderstanding between law enforcement agencies.
Chief of Army Staff (COAS) General Qamar Javed Bajwa on Tuesday, had ordered Corps Commander Karachi Lieutenant General Humayun Aziz to investigate the matter, the ISPR confirmed.
Chairman Pakistan Peoples Party (PPP) Bilawal Bhutto had appreciated Army Chief's decision to order a transparent inquiry over the matter.
Sindh Police officials have withdrawn their leave applications to continue serving the people of Sindh and Pakistan.
Karachi Blast
The Second incident however, is a gas explosion at a residential complex at Karachi's Maskan Chowrangi Area.
Five people are said to have been injured, whereas 28 people were injured in the incident.
Bomb Disposal Squad has declared that the explosion was caused due to a gas leak.
The very attempt to mix the two incidents and present it as an 'alternate narrative' is quite subtle and seems harmless at first glance, but in-fact is extensively well orchestrated and targeted, with a one-point agenda of discrediting Pakistan's armed forces and Pakistan's success against terrorism.
More importantly, the propaganda campaign is aimed at targeting country's youth via various communication and social media platforms to instil anti-army sentiments, a tactic known as 'Fifth generation warfare' – of which the Army Chief himself has warned off on several occasions.
India's Fifth Generation war against Pakistan
This is not the first time India has been caught red-handed, spurring lies and false propaganda against Pakistan and Pakistan Army. Indian government on various occasions have been found funding, supporting and sponsoring such anti-Pakistan narrative and false propaganda.
Adopting the strategy of 'divide and conquer', India has extensively played its role in fueling anti-army sentiments via backing Baloch separatist and groups such as Pashtun Tahaffuz Movement (PTM).
In the increasingly dynamic news media industry with extensive input of information from various platforms; it is imperative that viewers must lookout for the news source and filter out false propaganda and fake news sponsored by anti-Pakistan forces.