Four Pakistani-origin Muslims killed in Islamophobic attack in Canada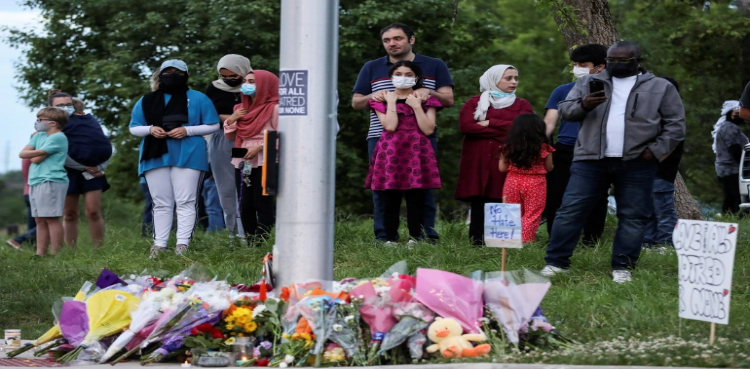 At least four members of Pakistani-origin family have been killed in an Islamophobic attack in Ontario, Canada.
Four people belonging from a Pakistani-origin Muslim family have been killed after a pickup truck ran over them after the driver identified the group as 'Muslims' and intentionally rammed them.
The deceased have been identified as Syed Afzaal – 46, his wife Madiha Salman – 44, their 15-year-old daughter Yumnah Afzaal and Syed Afzaal's 74-year-old mother.
Meanwhile, Faez Afzaal – 9, the only surviving member of the family is in hospital and is being treated for severe but non-lethal injuries.
Canadian authorities have termed the incident as 'hate motivated' and have arrested Nathaniel Veltman who ploughed his pickup truck into the Afzaal family members.
The police have revealed that the Islamophobic attack was planned and intentional, and that federal authorities have been called to assist to investigate the possibility of terrorism charges.
To the Muslim community in London and to Muslims across the country, know that we stand with you. Islamophobia has no place in any of our communities. This hate is insidious and despicable – and it must stop.

— Justin Trudeau (@JustinTrudeau) June 7, 2021
I spoke on the phone this evening with @LdnOntMayor and @NTahir2015 about the hateful and heinous attack that took place in London, Ontario yesterday. I let them know we'll continue to use every tool we have to combat Islamophobia – and we'll be here for those who are grieving.

— Justin Trudeau (@JustinTrudeau) June 8, 2021
Canadian Prime Minister Justin Trudeau has condemned the heinous attack and has expressed solidarity with the country's Muslim community.
Meanwhile, National Council of Canadian Muslims (NCCM) has demanded justice against the Islamophobic attack against country's Muslim minority population.
BREAKING: The National Council of Canadian Muslims (NCCM) is beyond horrified and demands justice after the horrific hate-motivated car attack on a Muslim family in London, Ontario who were out for a walk on Sunday evening. pic.twitter.com/o1wXqjpnRb

— NCCM (@nccm) June 7, 2021
Saddened to learn of the killing of a Muslim Pakistani-origin Canadian family in London, Ontario. This condemnable act of terrorism reveals the growing Islamophobia in Western countries. Islamophonia needs to be countered holistically by the international community.

— Imran Khan (@ImranKhanPTI) June 8, 2021
PM Imran Khan has also condemned the hate-motivated 'terrorist' attack and has stressed that Islamophobia is a growing threat in the west and it needs to be countered via synergized international efforts.