PM Imran exposes India's 'orchestrated' anti-Pakistan propaganda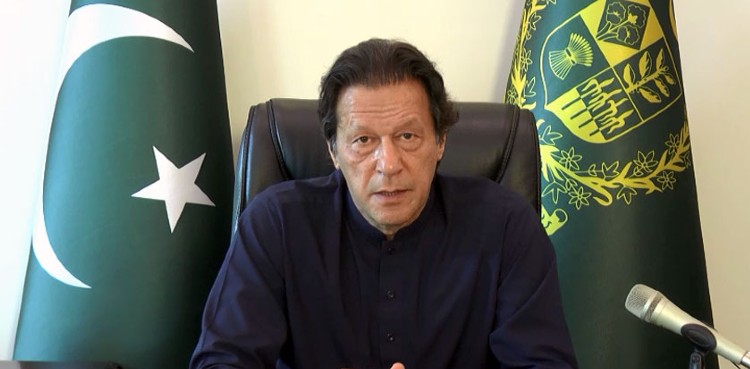 Prime Minister Imran Khan has once again accentuated  the 'orchestrated' anti-Pakistan propaganda campaign being run by India to destabilize and malign Pakistan.
The premier revealed that India is behind propagating fake news via utilizing various  digital communication and social media platforms such as WhatsApp and Twitter.
PM Imran Khan disclosed that the recent protests by Tehreek-e-Labbaik Pakistan (TLP) were exacerbated by an orchestrated Indian sponsored fake news campaign. The prime minister noted that around 380 WhatsApp groups linked with 'Extension +91' were involved in spreading fake news regarding situation in Pakistan.
It is to be noted that every country has different landline extension code andthe landline extension '+91' is exclusively for India.
Meanwhile, around 400,000 tweets were made during the TLP protests, of which 70 % of were fake. The Indian hand behind spreading fake news regarding Pakistan can be ascertained from the fact that Indian sponsored #CivilWarInPakistan was trending on Pakistani twitter on April 16th.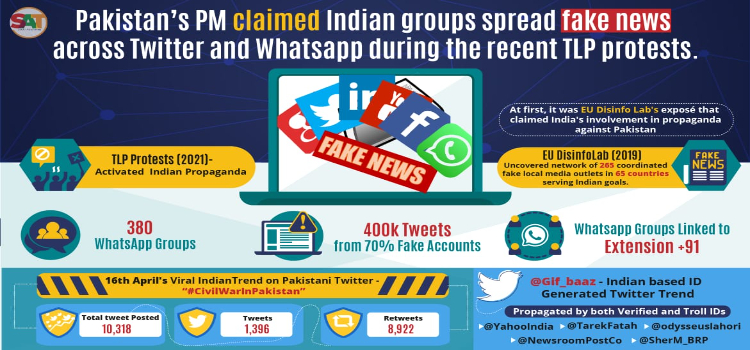 The 'artificial and fake' trend  generated by  @Gif_baaz, an Indian ID and was supported and propagated by various verified IDs as well as troll ones including @YahooIndia, @TarekFatah, @odysseuslahori, @NewsroomPostCo, @SherM_BRP and others.
On April 16th a total of 10,318 tweets were posted of which 1,396 were tweets whereas 8,922 were retweets.
The development comes as earlier, EuDisinfo Lab Report had exposed Indian network of fake news outlets whose primary aim was to defame and malign Pakistan.
The watchdog's report revealed that more than 750 media in 116 countries; over 550 website domain names; resurrection of dead people; impersonation of EU institutions and direct control of more than 10 NGOs accredited to the UN Human Rights Council, utilized for the purpose of pushing fake news and false Indian propaganda against Pakistan since 2005.