Pilgrims initiate Hajj rites in Mecca followed by 'limited' Ghilaf-e-Kaaaba changing ceremony.
Muslims performing Hajj this year, began pilgrimage rites in Mina on Wednesday, followed by a 'limited' Ghilaf-e-Kaaba changing ceremony in Mecca.
Religious festivities and rites have begun for Hajj 2020 under strict coronavirus SOPs and the Muslim world witnesses first ever 'limited' Hajj.
Under normal circumstances around two million people flock to Saudi Arabia to perform Hajj, whereas this year Saudi officials have limited Hajj to a mere 10,000 people of which around 70 percent are foreign expatriates residing in the kingdom, whereas the rest are Saudi citizens.
Arrival of pilgrims in Mina of 8th Dhu al-Hijjah marks the beginning of Hajj pilgrimage which is followed by an annual ritual of changing Ghilaf-e-Kaaba known as 'Kiswa' (cloth covering Kaaba) on 9th  Dhu al-Hijjah – Day of Arafat.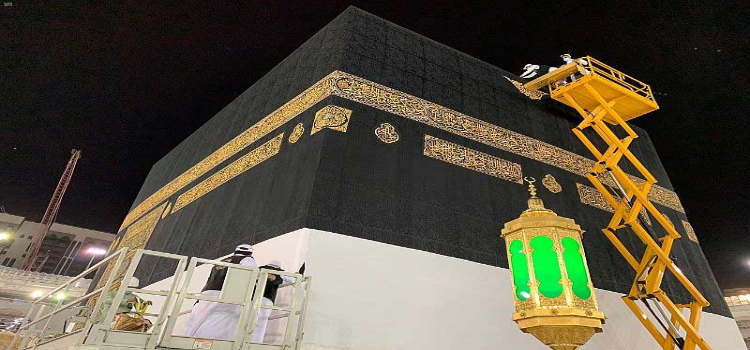 Read More: Saudi Arabia 'limits' Hajj 2020
Usually the ceremony is attended by several senior government officials, Saudi royals and representatives of various Muslim states, however this year, the ceremony was limited to only a handful of essential officials and individuals.
As per the details 'Kiswa' is made of pure sild and is 50, 35 feet in length and width respectively. It weighs around 675 kilograms, along with additional 100 kilograms of gold and silver engravings.
Saudi government has undertaken especial measures to ensure the safety of pilgrims in wake of COVID-19 pandemic.  Pilgrims will be screened for coronavirus before entering Mecca, whereas administration has ensured repeated sterilization and disinfection of the holy site.
Moreover, pilgrims have also been provided with 'sterilized pebbles' for the stoning of the devil on 11th and 12th  Dhu al-Hijjah.
It is to be noted that Saudi Arabia has reported 272,626 COVID-19 cases with 2,816 casualties so far.