KARACHI: Three Children among four killed as heavy rain lashes out metropolitan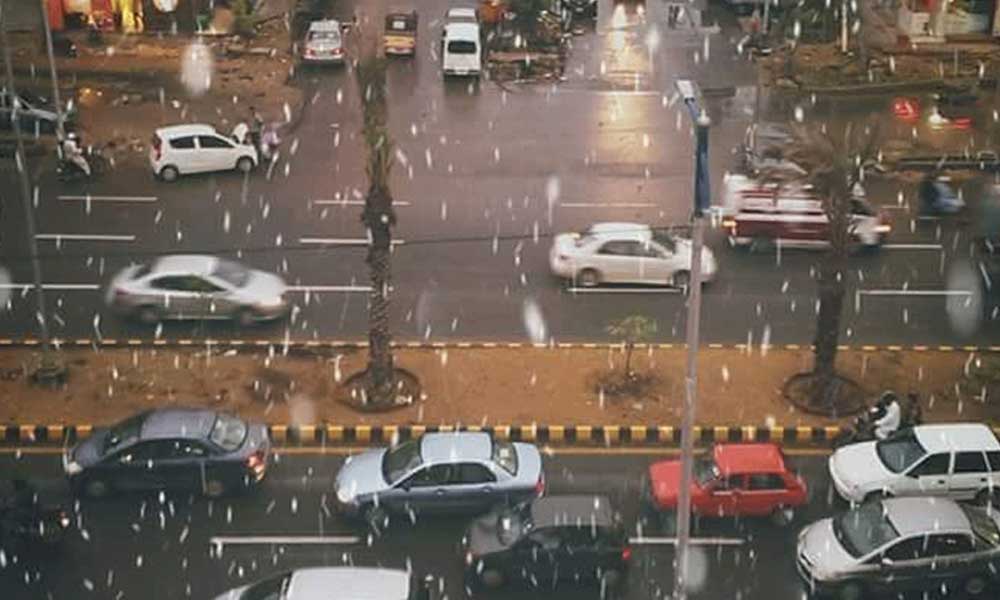 KARACHI: Four persons were killed in three rain-related incidents in different parts of the city on Wednesday when the 'unexpected' downpour of the pre-monsoon season lashed the metropolis, inundating roads and leaving many areas without electricity for hours.
The rain also broke the days-long spell of hot, humid and suffocating weather and turned the weather conditions pleasant.
The sudden and brief spell of heavy showers also took the Meteorological officials by surprise as they were not expecting the clouds to burst by evening.
"We released a long-range forecast about a week, or two, ago mentioning chances of rains in Karachi on June 22," said Sardar Muhammad Sarfaraz, director of the Met office.
The highest count of rain, 38 millimetre, was reported in Nazimabad followed by Airport that received 22mm of rainfall.
In other observatories of the Met office, the rain count remained below 10mm. The Met office recorded winds blowing up to 49 knot per hour.

Wall, roof collapse incidents
Although the quantity of rainfall remained low to moderate, it came with thunder and strong winds that made the downpour so powerful which brought about damage to some extent.
Trees were uprooted in several parts of the city and vulnerable structures also fell down in some areas.
In Jamshed Town, the same kind of incident claimed live of two boys.
Jamshed Town SP Captain Saddam Husain said that some children were playing in a street in Ashraf Colony of Mehmoodabad when a wall, whose structure was apparently weakened due to rain, collapsed. Four children came under the debris. They were rescued and taken to the Jinnah Postgraduate Medical Centre where two of them pronounced dead on arrival.
The deceased were identified as Dileep Kumar, 13, and Piyosh Shambo. Two other boys namely Rahul and Gatu were injured.
A six-year-old boy, identified as Saim, also lost life when the roof his Millat Town home in Shah Faisal Colony collapsed.
A 50-year-old man, identified as Tariq, met the same fate in Gulshan-i- Ayesha near Mausamyat due to collapse of the roof of his house.
Prolonged power outages
The power supply crisis on the other hand, which was already testing the patience of Karachiites, further deepened after the rains.
Almost all parts of the city suffered the electricity breakdown minutes after the rain.
Though the power utility, K-Electric, claimed to have brought the operation almost to normal after the rains subsided, residents of dozens of areas of the city came up with complaints about power outages.
"Out of 1,900 feeders, 1,650 are operating normally," claimed a KE spokesman.