Malala Yousafzai – Pakistan's Nobel Prize Laureate and female education activist, has earned her Philosophy, Politics and Economics degree at Oxford.
Yosafzai rejoiced the day with her family and shared adorable photos on her social media account.
In her Instagram post, she wrote, "Hard to express my joy and gratitude right now as I completed my Philosophy, Politics and Economics degree at Oxford."
She went on to say "I don't know what's ahead." However, Malala said, "For now, it will be Netflix, reading and sleep."
She also shared an interesting Instagram story saying "currently unemployed and gonna sleep for days. Need new shows to watch."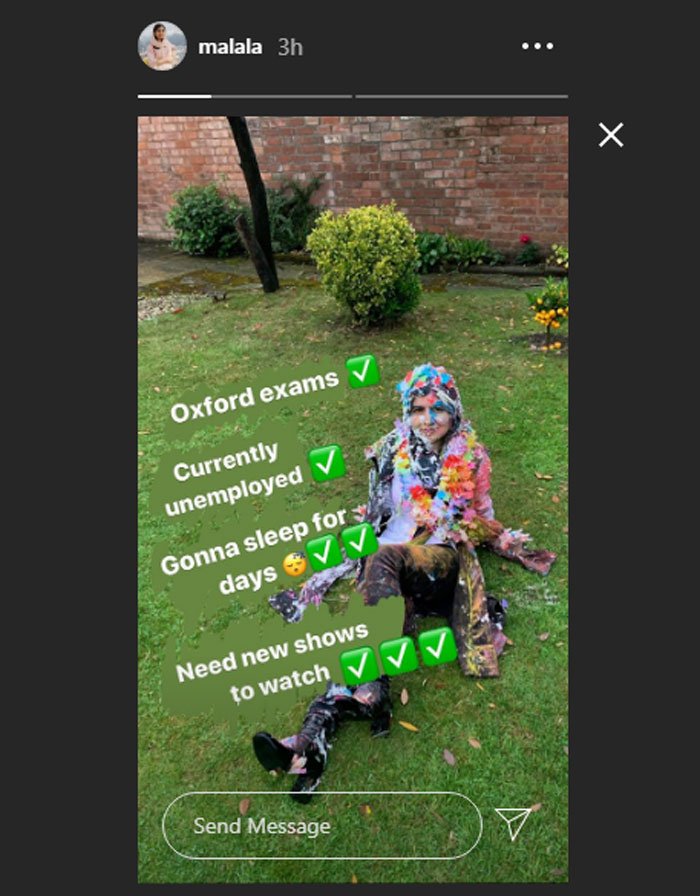 Read More: Malala, Charlize Theron back calls for a global ceasefire
Malala Yousafzai was born to a Pashtun family in Mingora, Khyber Pakhtunkhwa, Pakistan. Her family came to run a chain of schools in the region.
when she was 11–12, she wrote a blog under a pseudonym for the BBC Urdu detailing her life during the Taliban occupation of Swat.
On 9 October 2012, while on a bus in the Swat District, after taking an exam, Yousafzai and two other girls were shot by a Taliban gunman in an assassination attempt in retaliation for her activism; the gunman fled the scene.
Yousafzai was hit in the head with a bullet and remained unconscious and in critical condition at the Rawalpindi Institute of Cardiology, but her condition later improved enough for her to be transferred to the Queen Elizabeth Hospital in Birmingham, UK.
The attempt on her life sparked an international outpouring of support for Yousafzai.