Maulana Abdur-Razzaq Iskander passes away in Karachi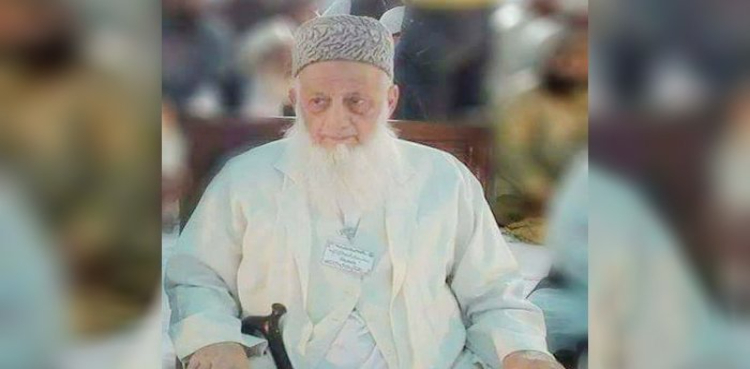 Maulana Abdur-Razzaq Iskander head of the Wifaq ul Madaris Al-Arabia Pakistan passed away in Karachi on Wednesday (today).
Maulana Abdur-Razzak Iskander was suffering from a prolonged illness and was on ventilator for one and a half week.
His funeral prayers will be offered after Isha prayers at Karachi's Binoria Town Mosque.
Abdur-Razzak Iskander was a leading and prominent religious scholar of Deoband sect. started his teaching career in 1955. He served as the chancellor of chancellor and Shaykh al-Hadith (senior professor of hadith at the Jamia Uloom-ul-Islamia. He was made a member of the working committee of the Wifaq ul Madaris in 1997 and appointed it vice-president in 2001.
Abdur-Razzak Iskander later served as its working president for nine months following the death of Saleemullah Khan and was appointed the president on 5 October 2017. In 1981, he was elected a member of the executive council of the Aalmi Majlis Tahaffuz Khatm-e-Nubuwwat (AMTKN).
In 2008, he was appointed the central deputy-emir following Sayed Nafees al-Hussaini's death. In 2015, he succeeded Abdul Majeed Ludhianvi as the emir of AMTKN. He also served as the president of Ittehad-e-Tanzeemat-Madaris Pakistan.
Maulana Abdur-Razzak Iskander was an alumnus of Darul Uloom Karachi, Jamia Uloom-ul-Islamia, Islamic University of Madinah and the Al-Azhar University.
His notable literary works include 'Tablighi Jamaat and Principles and Methodology of its Dawah', 'At-Tarīqat al-Asriyyah' (2 parts) – included in the curriculum of Wifaqul Madaris and 'Tahafuzz-e-Madāris'.