Munawar Hasan laid to rest in Karachi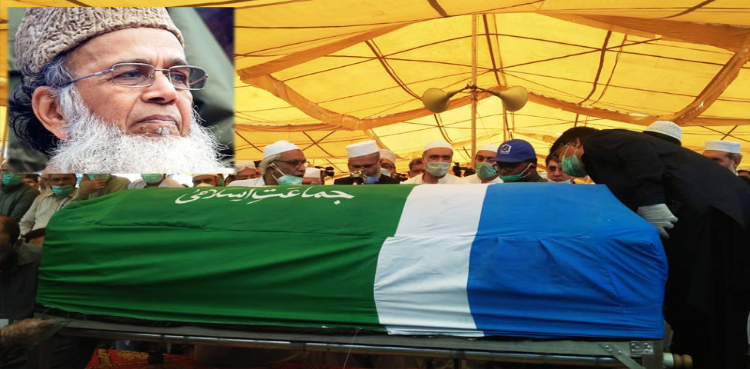 Jamat-e-Islami (JI) leader and its former Ameer Syed Munawar Hasan laid to rest in Karachi on Saturday.
The funeral prayers of Syed Munawar Hasan – the fourth Ameer of Jamat-e-Islami, were offered in Eidgah ground in Nazimabad and were lead by Ameer JI Senator Siraj-ul-Haq.
Several JI leaders including Hafiz Naeem ur Rehman, Miraj ul Huda Siddiqui, MPA Syed Abdul Rasheed and hundreds of JI workers and officials attended the funeral prayers.
Other prominent individuals who attended the funeral prayers include PSP leader Arshad Vohra, MQM's (H) Afaq Ahmed, late mufti Naeem's son Mufti Noman, JUI-F's Qari Usman, PML-N's Nehal Hashmi, JUI-S's Qari Abdul Karim Abid and others.
Read More: Munawar, Naeem and Jauhari died from COVID-19, says CM
Munawar Hasan joined the party in 1967, and was elected as the fourth 'Ameer' or head of Jamat-e-Islami in 2009 – a post from which was ousted from after the party's overwhelmingly poor performance in 2013 General Elections.
Munawar Hasan passed away on Friday, June 26. He was being treated at Imam Clinic Hospital Karachi, and was even put on ventilator as his health deteriorated.
He was laid to rest in Karachi's Sakhi Hasan graveyard.