National Accountability Bureau (NAB) has announced to take legal action against Maryam Nawaz and PML-N leaders over violent clash with police and security personnel posted outside NAB office Lahore.
The accountability watchdog has announced to lodge First Information Report (FIR) against Maryam Nawaz along with various other PML-N leaders, party officials and workers involved in violent clash with police and security personnel outside NAB office today.
NAB, in a press-release, has accused PML-N officials of 'orchestrating' the violent clash with the police.
"In 20 years of NAB, this is the first time that a constitutional and national institution has been treated this way which saw NAB office being pelted resulting in several NAB staff members being injured…..After the approval of Chairman NAB Justice (rtd) Javed Iqbal, it has been decided to lodge FIR against PML-N leaders and workers for obstructing government administration," said the statement issued by NAB.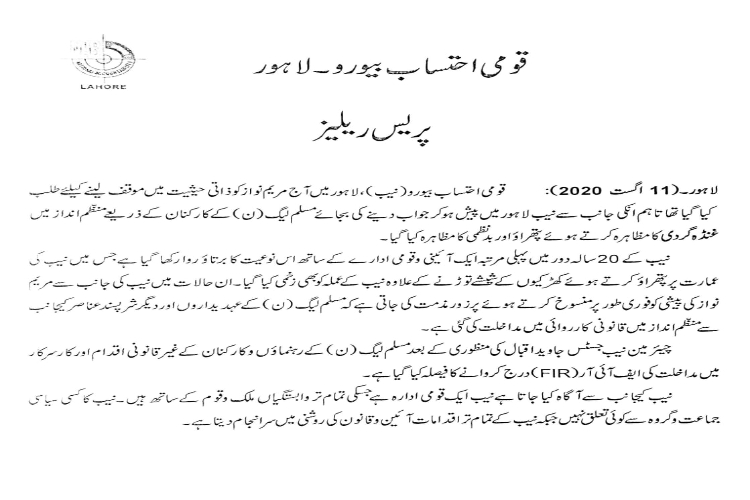 The development comes as earlier, NAB had summoned Maryam Nawaz for questioning pertaining to the illegal land allotment case.
Hundreds of PML-N workers gathered in front of NAB office to show solidarity with their leader. However, the situation deteriorated rapidly with party workers pelting stones at the police and trying to remove security barricades.
The police responded with tear gas shelling and baton charge to disperse the violent crowd which wounded around 15 police personnel during the violent clash.