NCOC warns of strict lockdown as country witnesses spike in COVID-19 cases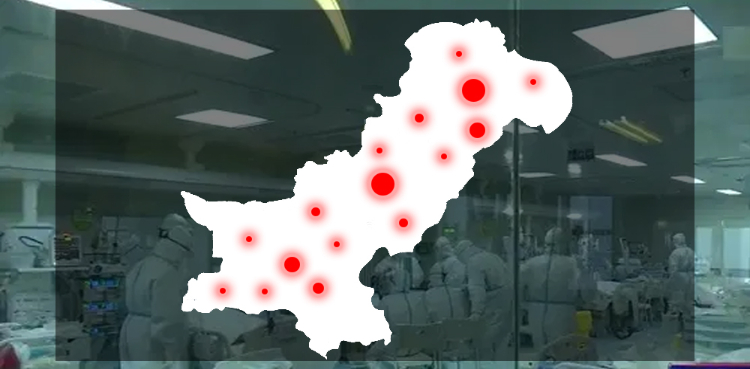 National Command an Operations Center (NCOC) has warned of strict COVID-19 lockdown and restrictions amid notable spike in COVID-19 cases within the past seven days.
Federal Minister for Planning and Development – Asad Umar chaired while chairing a meeting of NCOC in Islamabad on Monday (today), warned that government will impose strict COVID-19 lockdown and other restrictions if people continue to violate COVID-19 SOPs in public places, marriage halls, restaurants, transports, markets and tourism sector across the country.
Separately, Special Assistant to Prime Minister (SAPM) on Health – Dr Faisal Sultan took to social media to highlight that country has witnessed a notable surge in COVID-19 cases in the last week.
The SAPM urged the masses to ensure the implementation of COVID-19 SOPs such as wearing of face masks, social distancing and vaccination.
Pakistan conducted a total of 45,245 COVID-19 tests during the past 24 hours, of which 1,347 came back positive, taking nation's COVID-19 positivity rate to 2.97% – the highest since June 16th last month.
Meanwhile, 19 people succumbed to COVID-19 during the past 24 hours.
Country's total COVID-19 tally stands at 963,660 cases with a death toll of 22,427 people.
According to a province-wise breakdown, the total cases reported in Sindh so far are 340,902, in Punjab 346,852, in Khyber Pakhtunkhwa 138,533, in Islamabad Capital Territory 82,969, in Balochistan 27,419, in Gilgit-Baltistan 6,427 and in Azad Jammu and Kashmir 20,558.
As per NCOC statistics, 13,234,851 people have been partially vaccinated against COVID-19 with 3,121,648 people being fully vaccinated against the novel virus with the country administering a total of 16,356,499 COVID-19 vaccine doses in total.