Pakistan, Uzbekistan agree to establish strategic partnership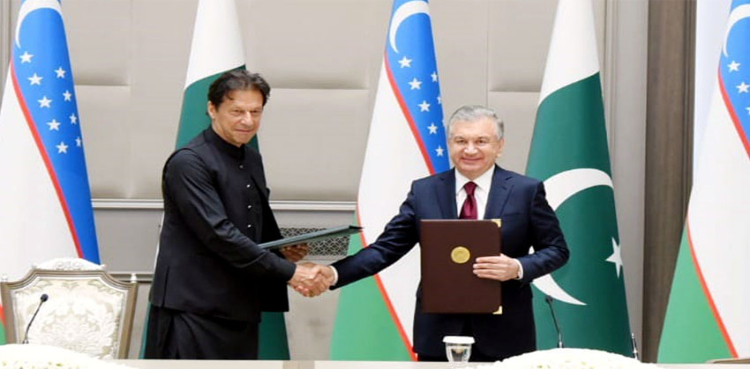 Pakistan and Uzbekistan have agreed to establish strategic partnership in order to increase bilateral socio-economic ties and cooperation between the two countries.
PM Imran Khan met with President Shavkat Mirziyoyev of Uzbekistan and Tashkent. The two leaders agreed to expand multifaceted bilateral cooperation in all areas of mutual interest and stressed the importance of closer coordination.
The interaction included one-on-one meeting along with delegation level bilateral talks which was followed by signing of the 'Joint Declaration on the Establishment of Strategic Partnership' by PM Imran Khan and President Shavkat Mirziyoyev.
Several MoUs and agreements were signed to strengthen cooperation between the two sides in diverse areas. These include a protocol on exchange of pre-arrival information on goods moved across the state border, an agreement on transit trade, cooperation in the field of military education and an agreement on simplification of visa procedures for businessmen and tourist groups.
An MoU between Pakis­tan's Foreign Service Academy and the University of World Economy and Diplomacy of Ministry of Foreign Affairs of Uzbekistan was also signed, in addition to a cultural exchange programme 2021-2026 and an MoU on tourism.
The joint declaration, issued at the conclusion of the business forum, said Prime Minister Khan and Uzbek President Mirziyoyev agreed to strengthen their multifaceted ties in political, trade and economic, energy, communication, science and technology, education and cultural spheres, and fighting Covid-19.
The two leaders expressed satisfaction at the continued progress in bilateral relations and announced the establishment of a strategic partnership for mutual benefit of the two countries.
Noting that Pakistan was among the first countries to recognize the independence of Republic of Uzbekistan in 1991, the leaders congratulated each other on approaching the 30th anniversary of the establishment of diplomatic relations between the two brotherly countries and agreed to celebrate it in a befitting manner.
Pakistan-Uzbekistan-Joint-Declaration-22

Expressing satisfaction with the level of cooperation between the Defence Ministries, the leaders agreed to continue cooperation in conducting joint military exercises and trainings, as well as in the field of vocational training and the exchange of professional expertise between the militaries of the two countries.
The two sides called for enhanced cooperation in the fields of agriculture, pharmaceuticals, textile, leather and chemical industries, energy and information technology.
They recognized regional integration and connectivity as a cornerstone of economic development and progress. In this regard, they welcomed the exchange of high-level visits in the areas of trade, railways, transport and aviation.
It is to be noted that PM Imran Khan is on a two-day visit to Uzbekistan. The premier is accompanied by is accompanied by Information Minister Chaudhry Fawad Hussain, Interior Minister Sheikh Rashid Ahmed, Minister for Maritime Affairs Ali Haider Zaidi, National Security Adviser Dr Moeed Yusuf and Khyber Pukhtunkhwa Minister for Information Technology Atif Khan. Meanwhile, Foreign Minister Shah Mahmood Qureshi also joined the Pakistani delegation after concluding his Tajikistan visit.